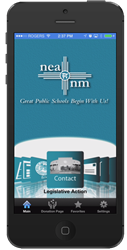 This award is a validation by our peers that we are on the right track. - Charles Bowyer
Denver, CO (PRWEB) July 23, 2014
The NEA New Mexico (NEA-NM) today announced its first place award from the State Education Editors Conference for their iPhone and Android applications. The mobile applications were developed to engage their members, the public and politicians on the top mobile devices in the market today. The applications provide access to the association's social media feeds, videos and support their political advocacy initiatives.
"This award is an honor and we are glad to be at the forefront of technology to engage our members and improve education in the State of New Mexico," said Charles Bowyer, the Executive Director for NEA New Mexico. "This award is a validation by our peers that we are on the right track."
The NEA New Mexico's mobile applications are developed and maintained by Purple Forge. Purple Forge is the world's leading provider of mobile applications to associations and advocacy organizations, who are actively working with other state chapters of the NEA, including Alaska, Ohio, Michigan and New Hampshire. The New Mexico NEA joins the Missouri NEA, whose mobile applications were awarded a Gold Pollie™ award from the American Association for Political Consultants (AAPC) earlier this year.
"We are truly honored to work with such a great communications team in New Mexico," said John Craig, VP Sales and Marketing of Purple Forge. "Smartphone apps are quickly becoming the leading way to engage and inform association member."
About Purple Forge
Purple Forge sells subscription based services to organizations looking to engage their stakeholders using the latest mobile application technology and leveraging community engagement and social networking best practices. Purple Forge is an award-winning firm led by seasoned mobile communications and Internet technology veterans. Our mobile applications allow organizations to broadcast, share, and receive feedback from their target audience real-time, allowing them to foster long-term, engaged relationships.
Contact: John Craig, john(dot)craig(at)purpleforge(dot)com
About the NEA New Mexico
The NEA-NM and its affiliates advocate for students, public education, and public education employees in New Mexico. The Association focuses the energy and resources of its members toward achieving Great Public Schools for every student and school employee in New Mexico. Great Public Schools Begin With Us! NEA-NM membership means benefits that help our members provide the best possible education for their students. Backed by the resources of the 3.2 million NEA members, NEA-NM members enjoy a wide range of benefits that surpass any other organization.
Contact: Charles Bowyer, cbowyer(at)nea(dot)org