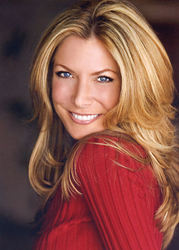 'Jennifer Farrell's design tips will help condo owners better utilize limited space and her kitchen and bath remodeling ideas will help homeowners make wiser improvement decisions,' said Sharon Berube, spokesperson for the Home Show.
Miami Beach, FL (PRWEB) July 24, 2014
Oprah Winfrey Network's "Home Made Simple" was recently nominated for an Emmy, a thrilling experience for co-host Jennifer Farrell. The busy television and lifestyle expert is not new to TV and is well known for her extensive television career in which she has offered tips, techniques and hands-on demonstrations to fans around the country. Jennifer will now share those insights with South Floridians in complimentary seminars at the Miami Home Design and Remodeling Show. The show takes place August 29-September 2 (Labor Day Weekend) at the Miami Beach Convention Center.
South Florida home improvement enthusiasts will have the opportunity to meet Jennifer following each of her seminars at the Home Show. Jennifer will share "Ten Design Secrets for Compact Living" at 2:00 pm Sunday (August 31) and Monday, Labor Day (September 1), followed by "Top Ten Trends for Kitchens and Baths" at 4:00 pm. "The seminar topics are well suited for South Florida with the recent boom in condo development and the popularity for kitchen and bath remodeling," said Sharon Berube, spokesperson for the Home Show.
Jennifer's extensive television career includes Style Network's hit "My Celebrity Home." She is best known for hosting the long-running A&E home improvement series "Find & Design" and has also hosted A&E's "Point, Click, Design" as well as "The Big Fix," where she shared fun, easy design tips. She spent three exciting seasons as co-host and designer for Lifetime Television's hit home makeover show, "Merge." Jennifer has been a regular guest on Hallmark Channel's Emmy-nominated "Home & Family." She was on the Fox Network show "Renovate My Family" as well as Fox Television's "Design Intervention."
Jennifer's has made appearances on "Room Crashers" and "Outer Spaces" on HGTV, and her own award-winning gardens have been highlighted on the network as well. Jennifer has made multiple guest appearances on "The View" as well as on dozens of talk shows from coast to coast to chat about home decorating. As an expert on green design, Jennifer has been a featured speaker at building industry and trade shows across the country. She is a nationally recognized spokesperson who has teamed with high-profile brands such as Coca-Cola, CVS Earth Essentials, Tide, Glad, 3M, Aluminum Council, Big Lots, Belgard, and Oreck.
Jennifer's most popular venture has been The Jennifer Farrell Collection, featuring hundreds of furniture and décor pieces at nearly 1400 stores nationwide. In addition, Jennifer continues working with select private clients through her interior design firm, Jennifer Farrell Designs. Jennifer's work has been featured in dozens of publications including Redbook, Ebony, Entertainment Weekly, House & Garden, and Sunset. Jennifer's signature style balances an inventive flair for the theatric with a sense of cozy comfort to create inspired living. She would welcome the opportunity to do media interviews. To schedule an interview, email Sharon Berube at Sharon(at)homeshows(dot)net.
The Home Design and Remodeling Show is the Southeast's largest home improvement and design event, produced by forty-year veteran show producers Larry Perl and Steve Plotkin of Home Show Management Corp. The Home Show showcases thousands of products and services for upscale residential decorating, remodeling and home improvements. Hundreds of businesses from around the country and internationally will be exhibiting. This unique interactive marketplace creates the perfect venue for show attendees to interact with home improvement and interior design experts. Attendees can shop, compare products and save with special show pricing throughout the event.
Show hours: Friday (8/29) 6:00 pm-10:30 p.m.; Saturday & Sunday (8/30-8/31) noon-10:30 p.m.; Monday, Labor Day (9/1) noon-7:30 pm; Tuesday (9/2) 6:00 pm -10:30 pm
Show Info: http://www.homeshows.net or 305-667-9299.