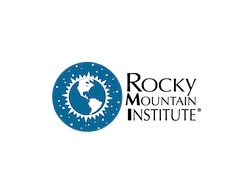 "Our new managing directors will help shepherd RMI towards becoming a more influential global force in the climate change arena."-RMI CEO Jules Kortenhorst
Snowmass, Colorado (PRWEB) July 23, 2014
Rocky Mountain Institute is pleased to announce the addition of five new senior-level managing directors to ensure the organization successfully advances its substantial carbon reduction goals across communities and the buildings, electricity, finance, international and transportation sectors. Each with two to three decades of strategic leadership, these new appointments represent an infusion of substantial experience and thought leadership to help RMI overcome the global energy challenges it has sought to solve for the past 32 years.
Their deep knowledge and expertise will help further progress RMI's impact in key areas across the energy-using sectors of the global economy, set programmatic agendas, and generate and manage collaborative efforts with companies, communities and industry groups.
"Our new managing directors will help shepherd RMI towards becoming a more influential global force in the energy and climate change arena," said RMI CEO Jules Kortenhorst. "Drawing from a global pool of talent, this expanded leadership team gives us the broadened experience and capacity we need to rapidly meet the challenges of transforming to a clean, prosperous and secure energy future."
The new executive team brings their previous successes, relationships and leadership roles in business, finance, entrepreneurship, technology innovation and international collaboration to the table as RMI works strategically towards bold new goals, partnerships and initiatives.
The managing directors span across RMI's areas of expertise:

Maiyue Cheng — Cheng brings 23 years of experience working on technology, investment and policy issues as well as innovation in growth models, smart cities, clean technology and education in mainland China, Hong Kong and the U.S.. His experience also includes work with the World Bank, Chinese state-owned enterprises, leading energy and telecom companies, and senior roles in economic and financial analysis and international management. Cheng will be a managing director for RMI's international practice.
Stephen Doig — Doig rejoins RMI from McKinsey & Co., where he was most recently a senior leader in the sustainability and resource productivity practice, focusing on energy efficiency, energy productivity and resource optimization across a range of business and public sectors. Prior to McKinsey, Doig spent five years as a senior leader at RMI guiding work in electricity, industrial whole-systems optimization and the 2011 Reinventing Fire analysis. He has also provided consulting expertise to the U.S. Air Force in reducing infrastructure energy use by 30 percent and dramatically increasing use of renewables. Doig will lead RMI's communities practice.
Curtis Probst — Probst comes from Goldman, Sachs and Co. where he was a managing director in investment banking. He was responsible for corporate structured finance, which involved capital-raising for corporate and government clients, and public-private partnership financing. He also spearheaded renewables and energy efficiency structured finance initiatives. Prior to joining Goldman Sachs, he served as a vice president at Salomon Brothers Inc. in structured and project finance. He will drive RMI's sustainable finance practice area.
Hervé Touati — Touati held senior positions at E.ON, Germany's leading utility, including COO of the non-wind businesses at E.ON Climate & Renewables and founder and CEO of E.ON Connecting Energies, E.ON's new distributed energy business. Earlier, he served as advisor for the financial and energy sectors with McKinsey & Co. Touati will act as a managing director within RMI's electricity practice with particular focus on RMI's Business Renewables Center (BRC) and disruptive business models and technologies.
Jeruld Weiland — Weiland has 30 years of experience in the automotive sector with General Motors, in the U.S. and international operations in Europe, China, Australia, Korea and Latin America. He has led innovative new product, technology, market and business models including urban mobility, youth markets, e-business, hydrogen fuel cell commercialization and battery electric vehicles. He will guide RMI's transportation practice including Reinventing Fire: China's transportation initiatives.
Earlier this year, with the help and support of its Board, RMI embarked on a strategic process to build upon its current strengths in order to grow and scale up the organization's impact. Strong senior leadership was identified as a major component in increasing that impact and in meeting the organization's 2025 goals.
RMI tackles the world's toughest energy challenges by using whole-systems thinking to generate breakthrough insights. By partnering with early adopters across business, government, civil society, and the military, it creates replicable, value-generating solutions for entire sectors. In executing on this change model, RMI works both with individual organizations to capture value within their operating constraints and with stakeholder "ecosystems" to develop shared recognition of the opportunities in cost-effectively shifting from fossil fuels to efficiency and renewables.
"Transforming global energy use requires a globally-minded staff with experienced leadership behind them," said Amory Lovins, RMI co-founder, chairman emeritus and chief scientist. "Our new managing directors bring thought leadership and industry experience to RMI that will help us surmount the world's energy challenges."
About Rocky Mountain Institute
Since 1982, Rocky Mountain Institute has advanced market-based solutions that transform global energy use to create a clean, prosperous and secure future. An independent, nonprofit think-and-do tank, RMI engages with businesses, communities and institutions to accelerate and scale replicable solutions that drive the cost-effective shift from fossil fuels to efficiency and renewables. Please visit http://www.rmi.org for more information.