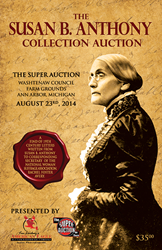 She is without question an icon and one of the most important women in American history hence the reason she was the first woman to be honored by having her likeness appear on a circulating United States coin. - Kenny Lindsay, Professional Auctioneer
ANN ARBOR, MICHIGAN (PRWEB) July 24, 2014
A large collection of original handwritten letters along with other artifacts from pioneer crusader for the woman suffrage movement, Susan B. Anthony from the 19th century was recently discovered in an old estate near Grand Rapids, Michigan.
The collection which consists of 60 never seen before letters written by Susan B. Anthony to her longtime friend and corresponding secretary, Rachel Foster Avery with the National American Woman Suffrage Association. Other artifacts including sterling silver, antique original photographs and artwork will be on display and sold at The Super Auction at the Washtenaw Farm Council Fairgrounds in Ann Arbor, Michigan on Saturday, August 23, 2014.
Susan B. Anthony was a pioneer and crusader for the woman suffrage movement in the United States and Europe. She was the president of the National American Woman Suffrage Association from 1892-1900. It was because of her efforts that she changed the course of history for women giving women the right to vote.
In 1869 Susan B. Anthony and fellow activist, Elizabeth Cady Stanton founded the National Woman Suffrage Association. The duo teamed up and organized conventions and speeches throughout the United States of America.
Anthony devoted virtually all of her time giving speeches around the United States and Europe to persuade others to support a woman's right to vote. In 1872, Susan B. Anthony was arrested and fined for illegally voting in a presidential election because she was a woman. She never paid the fine but the publicity she gained for woman's rights was powerful.
According to historian, Ann D. Gordon, "By the end of the Civil War, Susan B. Anthony Anthony occupied new social and political territory. She was emerging on the national scene as a female leader, something new in American history, and she did so as a single woman in a culture that perceived the spinster as anomalous and unguarded ... By the 1880s, she was among the senior political figures in the United States."
"It's incredible to find this many original source documents from someone (Rachel Foster Avery) who worked directly with Susan B. Anthony. It's the treasure chest that you you always hope to find " Said Michigan Hall of Fame auctioneer and the founder of The Super Auction, David G. Hemer.
Professional auctioneer and President of the Michigan Auctioneers Association, Kenny Lindsay adds, "I'll be the first to admit that we are awestruck with what we are dealing with here. She is without question an icon and one of the most important women in American history hence the reason she was the first woman to be honored by having her likeness appear on a circulating United States coin."
The Susan B. Anthony Collection will be on display and sold at The Super Auction at the Washtenaw Council Fairgrounds at 5055 Ann Arbor – Saline Rd. in Ann Arbor, Michigan on Saturday, August 23, 2014. To request a Susan B. Anthony Collection commemorative catalog at $35 or to view online, please visit http://www.MichiganAuctionCompany.com or http://www.TheSuperAuction.net
Media Contact:
Kenny Lindsay, President
Michigan Auctioneers Association
(734) 223-3277
http://www.MichiganAuctionCompany.com
David Helmer, President
The Super Auction
(734) 368-1733
http://www.TheSuperAuction.net
##