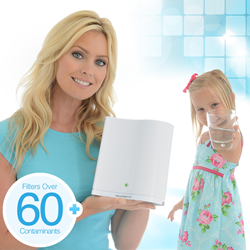 People who choose premium, choose Pelican!
Deland, Florida (PRWEB) July 25, 2014
Pelican Water Systems, the market leader in salt-free water softening systems, is pleased to announce the July 25th launch date of its new Premium Drinking Water System, a unique and affordable countertop water filtration device – a perfect fit for the apartment resident who wants cleaner, purer drinking water.
The launch of this kitchen countertop filter allows anyone to enjoy purer, cleaner drinking water, not just homeowners who can install a whole house water filtration system. Apartments, condos, and other multifamily dwellings create a host of obstacles against installations and structural changes. That's why Pelican Water designed the new Pelican Premium Countertop System with those homes specifically in mind.
Now, inexpensive, safer, and tastier water is within reach of everyone, regardless of where they live. Pelican's new countertop water filter makes everything taste better – from coffee to cooked pasta, rice, and vegetables. The new filter also is environmentally friendly, as you will no longer need to buy bottled drinking water.
Pelican's two-stage filtration system filters more than 60 contaminants from your water, including most traces of chlorine, which can give drinking water an unpleasant flavor. Some other contaminants include:

Lead
VOC's (Volatile Organic Compounds)
Microbial cysts
Mercury
Gardia
And more
This new countertop drinking water system has a capacity of up to 450 gallons before filter replacement.
Pelican's all-new Premium Drinking Water System is available on the company website beginning Friday, July 25th, 2014.
For purer and cleaner drinking water in your kitchen – wherever you live - at a great low price, think first of the new Pelican Drinking Water System.
About Pelican Water Systems
PelicanWater.com is the official, factory-direct retail website for Pelican Water Systems, providing professional knowledge and leading technologies in whole house water filtration, countertop water filtration systems, UV bacteria disinfection systems, as well as salt-free water softening and conditioning systems. Pelican Water products use cutting edge technology and enable customers to go green by eliminating wasteful and harmful salt brine discharge that is polluting our scarce fresh water supply.
For over two decades, Pelican Water has been the global market leader in salt-free water softening systems, and our mission remains to be the world's premier water solutions company through the development of premium, innovative, and environmentally responsible products and our unsurpassed commitment to integrity, passion, and exceptional customer service.
For more information about Pelican Water Systems, visit PelicanWater.com.