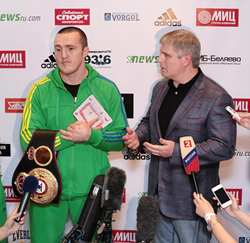 New York, NY (PRWEB) July 22, 2014
Andrey Ryabinskiy, a prominent real-estate developer and the founder of World of Boxing Promotion Company is seeking the New York court to award $2.4 million in damages, alleged against Don King.
Mr. Ryabinskiy was the promoter of the long-awaited rematch for the World Boxing Association's Cruiserweight Champion title between Denis Lebedev and Guillermo "El Jefe" Jones, which was supposed to be the centerpiece of a multi-bout event to be held in Moscow on April 25, 2014. (http://www.boxingscene.com/ryabinski-sues-don-king-over-jones-lebedev-ii-debacle--79510) However, only hours before the rematch an independent doping lab appointed by WBA (http://www.doping.chuv.ch/en) advised that the results of Jones' doping samples tested positive for Furosemide, leading WBA to withdraw its sanction of the bout, and promoter to cancel the bout. In its letter from April 28, 2014 clarifying WBA's decision not to sanction the bout, law firm Smith Alling that represents the interests of WBA, stated that "WBA would not, and could not sanction a championship bout when it was aware that of Jones' positive test as this would violate WBA rules, may cause unnecessary harm to the innocent boxer [Lebedev], and would otherwise compromise the nature of WBA world title bouts." The WBA ultimately declared Lebedev as champion based on Jones' drug test results. This is the second time a Jones-Lebedev bout has been tainted by a positive drug test, with Jones previously testing positive for the same banned substance after their first bout in May 17, 2013.
The breach-of-contract suit alleged against King (Civil Action No. 14 Civ. 3791 (SAS), filed by the Russian promoter in Manhattan federal court is seeking compensation of at least $2.4 million, for alleged damages incurred by World of Boxing LLC in organizing the event, including first class travel and luxury accommodation expenses of Mr. King and his team, venue fees, extensive advertising etc.
The case will be heard at 4.30pm on Wednesday, July 23rd, at the U.S. District Court for the Southern District of New York, by judge Shira A. Scheindlin. Judge Scheindlin has in the past presided over multiple very high-profile cases, many of which were said to have advanced important new positions in the interpretation of the United States Constitution or federal law.
Andrey Ryabinskiy and World of Boxing LLC will be represented by Arnold & Porter LLP (http://www.arnoldporter.com) who will act as its attorneys in the U.S. court.
Andrey Ryabinskiy is the Chairman of the Board of Directors and CEO of MIC Group of Companies, a major investment and real-estate development holding. Mr. Ryabinskiy is also a vice-president of The Russian Federation of Professional Boxing and the founder of World of Boxing LLC, a boxing promotion company that Mr. Ryabinskiy plans to turn into a leading global boxing promoter. To date, along with Denis Lebedev, World of Boxing LLC has signed several other high profile boxing champions, including Alexander Povetkin, Grigory Drozd and Rakhim Chakhkiev. Andrey Ryabinskiy previously attracted world attention after the grand fight night last October, hosted at the largest Moscow Arena, with the main feature being a fight for the super heavyweight WBA, WBO, IBO, IBF world championship, between Vladimir Klitschko v. Alexander Povetkin.
Press Contact in USA:
Dennis Senkov
Email: Dennis(at)AuricAdvisors(dot)com
Tel: (212) 729-4561