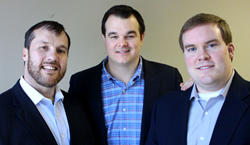 "The best products, along with the vast knowledge of available loans, honesty, integrity and state of the art technology enable TJC Mortgage to remain 1 of 84 local mortgage companies who survived since 2005 when there were 624," according to Joe Meadow.
Birmingham, AL (PRWEB) July 29, 2014
In 2005, three young 20-somethings were working together in a very large mortgage company under very large mortgage company rules. Then, they broke the rules and put something together that would benefit the client. That was 9 years ago.
"A decision to do things differently in that environment was rogue but it was the right thing to do," states TJC Partner, Chris Carter.
Partner Tanner Allen, adds, "There were still people wanting to buy homes and still ways to save them money. Working for a large company inhibited our ability to get to know the client - to understand the need."
Young, energetic, stubborn and rife with a plethora of bright and innovative ideas, they vowed to know their clients personally. They promised to find ways to save them money whether it be financing a new loan, refinancing an existing loan or obtaining a home equity loan. In 2005, the climate was changing and by 2009 loans were hard to find.
"We held our first official meeting at Jim 'N Nicks in Trussville to decide on a name for our new company. Everything we could think of was already taken and trademarked, so we decided on our initials, TJC. It was perfect!" beams Partner Joe Meadow.
It only took a few short months for TJC Mortgage to open for business in a small building off Old Springville Road with three offices and one bathroom. But, they were on their way and soon branched out with offices in Pensacola, Mobile, Memphis, Louisville and two additional offices in Birmingham.
Today, headquarters for TJC Mortgage is located near the Summit in Cahaba Heights.
"Unlike large banks and their accoutrements, consolidating our resources saves a whole lot of money - money we choose to pass along in savings to borrowers," exclaims Chris.
Extremely smart and still young at heart, they quickly grasp technology curves and state of the art social media. Now barely in their 30's, they're old enough to value trust and an old-fashioned handshake.
"They are the ones we want on our side when there is a financial decision to be made with housing," says Rhonda Brantley, NEX21 Media's Web Strategist.
Congratulations!