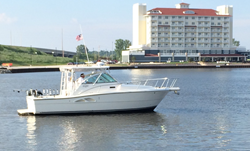 the used boat market has really come alive in 2014
St. Joseph, MI (PRWEB) July 29, 2014
Pier 33 of St. Joseph, Michigan has announced dates for the 2014 Pier 33 Yacht Brokerage and Pre-Owned Boat Show.
In response to boat owner requests and the increasing demand for used boats, Pier 33 has scheduled the 2014 show dates to cover nine days. This year's Pier 33 Yacht Brokerage and Pre-Owned Boat Show will be held September 6 thru 14, Saturday thru Sunday.
"The used boat market has really come alive in 2014 as more boaters are ready to make a change. We've taken many more trade-ins this year and have a number of boaters ready to move up, so those boats are now for sale" according to Pier 33 General Manager Tighe Curran. "Plus, we'll have the advantage of two full weekends so we're less likely to get weathered-out and buyers will have more opportunity to fit the show into their schedules".
Pier 33 provides boat sellers with free-of-charge in-water display area, as well as on-shore, both inside the showroom and outdoors during the boat show. According to Curran, the show has been a big draw in recent years because of the timing: before the boats are tucked away for winter storage and while there's still time to perform sea trials, survey and the other steps a buyer will require to complete a sale. "Many boat shoppers have spent the summer searching and want to make sure they've made their choice well ahead of the start of next year's boating season".
More information regarding the Pier 33 Yacht Brokerage and Pre-Owned Boat Show can be found at this link: Click Here.
Pier 33 is a full-service marina and boat dealership located in St. Joseph, Michigan. Pier 33 provides a complete range of boat repair, maintenance, storage and dock services, used boat sales and new boat sales for manufacturers Chaparral, Pursuit and Robalo Boats.