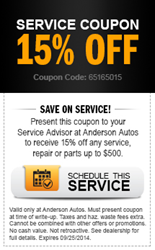 Clearwater, FL (PRWEB) July 23, 2014
AutoLoop, LLC, announced today that it is enhancing its popular Customer Engagement Suite by integrating a powerful "Click-Through Reporting" feature, which tracks customer response to email campaigns for more effective marketing.
"Real-time data translates to optimum sales," said Matt Rodeghero, AutoLoop Chief Product Officer. "This unique tracking feature enables dealers to respond quickly to the ever-changing needs of customers, while the click-through feature makes immediate customer response easy and convenient."
With this integrated feature, customers receiving an email offer can immediately click and be connected to online dealership scheduling, regardless of dealership operating hours. They can easily purchase and schedule the exact service offered within the email, driving up appointment numbers and service sales. According to Rodeghero, integrating this type of responsive tracking into a platform with both marketing and scheduling capabilities is unparalleled in the industry.
Dealers can give customers a convenient and compelling way to directly schedule service appointments, 24/7, Rodeghero explained. At the same time, email-to-RO metrics and data allow each dealership to fine-tune their messaging by seeing response and follow-through rates.
"We're giving dealers the power to optimize the customer experience in ways a simple scheduling tool cannot," said Rodeghero. "Ultimately, the customer receives faster, more efficient service and the dealer has increased and streamlined service traffic."
About AutoLoop:
Since 2005, AutoLoop's commitment to "Retention Through Engagement" has helped automotive dealerships nationwide increase sales, improve client retention and achieve overall higher satisfaction ratings. With an all-encompassing platform that monitors customer DMS activity in real-time, AutoLoop automatically triggers personalized custom messages through voice, email, SMS and direct mail to precisely targeted customers. An Inc. 500 company with over 35 million names in our database and nearly a billion individual communications initiated, we're passionate about making AutoLoop America's best customer retention partner for progressive dealerships.