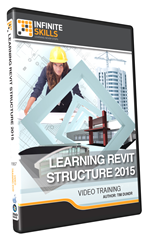 Learn Revit Structure 2015 at your own pace
(PRWEB) July 23, 2014
Software training firm Infinite Skills Inc. this week introduced its "Learning Revit Structure 2015 Tutorial," a course designed to provide engineers and architects with a functional understanding of the primary features of this powerful 4D Building Information Modeling (BIM) program used widely at all levels of professional design.
Revit Structure allows architects and engineers to design 3D models of buildings and their components, creating design plans along with a BIM database that is usable in all the stages of a building's lifecycle, from concept and design to construction and eventual demolition. Revit's powerful building models database produces highly detailed models, facilitating interdisciplinary collaboration and the production of client documents throughout the design process.
Infinite Skills' Learning Revit Structure 2015 Video Tutorial is a fundamentals course, providing students with a strong foundation for beginning to use Revit's tools for structural design in a professional workflow, including its capabilities for documentation, annotation, collaboration, and presentations.
Learning Revit Structure 2015 Tutorial Video - Streaming
Course author Tim Dundr began his career as an AutoCAD draftsman, and has spent nearly twenty years working in the fields of architecture and engineering, helping companies and individuals with implementing and training in CAD software. He has taught at multiple universities, including Kent State, educating students on CAD software from the fundamentals of modeling to advanced modeling concepts.
Dundr starts with the basics, introducing the Revit Structure interface and basic navigation, along with shortcut keys, using the ribbons, basic editing tools, and working with groups.
He then explores project setup, demonstrating how to create a project, and how to link in external files and manage synchronization with linked-in files.
The course continues with an exploration of Revit views, including section views, elevation views, and callouts.
Dundr then goes in-depth with different structural elements, explaining how to create columns and walls, foundations, structural reinforcement elements, beams and framing, and floors.
Other chapters explain documentation, worksharing, and creating and rendering presentations.
"This is a fundamentals course for Revit 2015. We'll start with an introduction to basic tools and then start with projects which teach Revit tools by working on some included project files," Dundr says.
"By the end of the course, students will be ready to start working on their own projects, and can use the course as a reference for using particular tools as their practice continues."
Free demo videos and a full list of course contents can be found on the Learning Revit Structure 2015 training page of the Infinite Skills website:
http://www.infiniteskills.com/training/learning-Revit-Structure-2015.html
Infinite Skills offers its Learning Revit Structure 2015 Tutorial either as a DVD or a direct download from the company website at a retail price of $99.95, or as part of its subscription streaming service available at a rate of $25 per month. Though the compatibility of programs varies, all Infinite Skills titles and formats work on both Mac and Windows operating systems, and shipping is available around the globe. Additionally, Infinite Skills tutorials are supported by project files which correspond to examples in the videos.
About Infinite Skills Inc.
A leader in the field of software training, Infinite Skills designs its courses on a task-oriented model, teaching complex skills by providing hands-on examples and guiding users as they carry out essential functions. Infinite Skills offers a wide range of software titles available as DVDs, digital downloads, and in iPad editions. Infinite Skills now offers a subscription service, providing access to all its training content for a monthly fee, keeping with company's aim of delivering professional training to customers anywhere they want to learn.