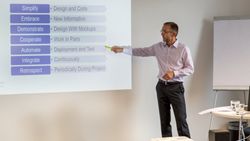 'The demonstrated interest in learning about CM First capabilities made the European tour a necessity for us,' said Christoph Heinrich, CEO.
Austin, TX (PRWEB) July 29, 2014
Following on the success of the CA Plex Games in Austin, TX in June, CM First is bringing the modernization story to Europe. A major stop was Zurich, Switzerland; on July 8th, CM First experts presented the CA Plex Developer Conference, a day of training on such subjects as: justifying uplift to CA Plex 7.1, RPG and C++ replatforming to C#/Java/Web/Mobile/API, strategies to move CA Plex applications to the Cloud and run them securely, exploiting CM WebClient to web- and mobile-enable applications, better business intelligence with Crystal Reports as well as well as agile Application Lifecycle Management with CM MatchPoint.
A surprise highlight was a spontaneous presentation by Richard La Croix, Hapimag AG, of their mobile vacation booking system, developed with CM WebClient. Read all the details at: http://www.cmfirstgroup.com/wp-content/uploads/2013/10/Hapimag-Customer-Success-Story.pdf.
Bringing in CA Technologies talent, attendees learned from Rob Layzell and Simon Cockayne about CA Plex Futures via live web session. This first European event was well-attended and the information exchange extended into the hallways as customers took a break from sessions. John Rhodes, CTO, enjoyed presenting to the attendees. "Explaining how CM WebClient can help companies quickly create mobile apps is always fun. Everyone was engaged and interested. CM First expects to help many customers make the move this year."
Christoph Heinrich, CEO, led the effort to bring CM First's unique modernization methodology to customers on the continent. "As CM First has found with its US-based customers, European companies are also struggling to modernize and mobilize applications," Heinrich noted. "The demonstrated interest in learning about CM First capabilities made the European tour a necessity for us."
An event similar to the one in Switzerland was held in Verona, Italy, working with partner, Futura.
Another was held in Madrid, Spain, working with partner, Near Technologies. Sites have been selected relative to customer base and partner locations. Check the web site for more information on a future stop in France - http://www.cmfirstgroup.com. And if you missed the event in Austin, the presentations are available on the CM First website: http://www.cmfirstgroup.com/resources/ca-plexgames-2014-presentations/.
About CM First
CM First is a global software and services company with focus on application modernization, custom development of enterprise applications that support high-performing, and agile development teams in three key areas: Application Modernization for IBM Environments, Custom Application Development Architected and Agile, Tools and Technology for Future Development. Several hundred modernization reference customers include Hapimag (travel industry), United Heritage (insurance) and Hartman & Hartman (construction).