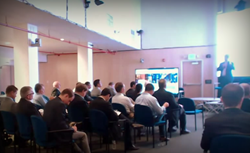 Chicago, IL (PRWEB) July 23, 2014
American Homeowner Preservation ("AHP") founder and Chief Executive Officer Jorge Newbery joined other real estate crowdfunding leaders in San Mateo, California this past weekend for the third edition of the Global Real Estate Crowdfunding Conference. The event was hosted by The Soho Loft Media Group and FundingPost. In addition to Newbery, other panelists featured at the conference included Jilliene Helman of RealtyMogul, Nav Athwal of RealtyShares and Adam Hooper of RealCrowd.
The conference kicked off Friday morning with rousing remarks from keynote speaker Ron Suber, President of Prosper Marketplace. Newbery participated on the Market Development through Real Estate Crowdfunding panel along with Hooper, AdaPia d'Errico from Patch of Land, Joey Jelinek from Groundbreaker and Dewayne Lener of Ascenergy. Other panels included Real Estate Crowdfunding Innovations, Real Estate Investments with a Cause and Crowdfunding for Realty.
The event was held at Draper University of Heroes, which was launched in 2013 by venture capital investor Tim Draper. Located in Silicon Valley, Draper designed the school for students who wish to pursue a passion for entrepreneurship and innovation. Students are taught to think big, bold and purposeful, an appropriate mantra for the real estate crowdfunding pioneers in attendance.
"Getting different platforms together helps local developers get a sense of the industry's ecosystem," said David Drake, The Soho Loft's Chairman. "The potential for real estate crowdfunding is extraordinary and conferences such as this are great opportunities to exchange ideas and nurture this nascent industry forward," added Newbery. The Soho Loft will host real estate crowdfunding conferences in Chicago on September 18 and New York City on Sepetmber 23.
American Homeowner Preservation empowers accredited investors to purchase equity in pools of distressed mortgages to earn returns of 9-12%. Homeowners are offered sustainable modifications to stay in their homes, including reduced payments and discounted principal balances. For further information or inquiries please visit http://www.ahpinvest.com or call 800-555-1055.