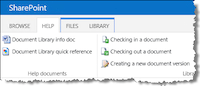 With VisualSP-Lite, we can finally make our SharePoint Help System available to all SharePoint users, regardless of which version they are on (2010, 2013 or Office365), and what budget they have (even if there's no budget at all)!
Plainfield, IL (PRWEB) July 24, 2014
SharePoint-Videos.com releases a new version of VisualSP-the SharePoint Help System. The new version, called VisualSP-Lite provides in-context and on-demand help to SharePoint users via a help tab in the ribbon of the SharePoint interface. There is no-cost to deploy and use this system.
After installing VisualSP-Lite, the Help tab shows up automatically on all sites in the following locations: Wiki pages, Document Libraries, Lists, List and Library Settings, and Site Settings. This Help tab follows the user around everywhere they go providing them context sensitive help and support. Help items are in the form of video tutorials, documents, tip sheets/screenshots, and links to other resources. All resources are served from the cloud service free of charge.
Oranizations can easily install the Farm solution for SharePoint on-premise (available for version 2010 and 2013), or the SharePoint online version at SharePoint-Videos.com. The installation process takes only two minutes.
Download VisualSP-Lite at No-Cost.
How does VisualSP-Lite differ from the Paid Versions of VisualSP?
There are three other versions of VisualSP that include additional functionality such as:

Ability for the organization to add its own custom content to the Help tab
A VisualSP web part that provides the same great help within the web content page
Content provided (video tutorials, reference documents, tip sheets) to be hosted in-house by the organization
Analytics on content access
Metrics on usage and the users
Learn more at VisualSP.com
About SharePoint-Videos.com (Rehmani Consulting)
SharePoint-Videos.com (SPVideos) focuses on empowering information workers, technical decision makers, administrators and developers in corporate environments with the SharePoint knowledge they need to be successful. SPVideos is the creator of VisualSP SharePoint Help System - in-context support delivered to users through the Help tab in SharePoint ribbon. VisualSP has been helping drive SharePoint adoption in organizations by exposing Help content such as: video tutorials, screenshots and reference documents to the users when they need it. In addition, hundreds of video tutorials are available on the SharePoint-Videos.com site, which empower all SharePoint users to build powerful solutions and use the SharePoint platform effectively. http://www.sharepoint-videos.com