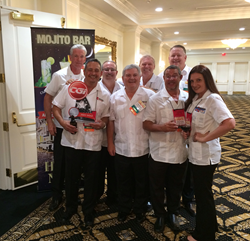 "The architectural community - and specifically AIA chapters in Florida - has been very important to us; Our goal is to do all we can to support the profession and build strong relationships to carry us into the future." - Steve Dawson, EVP sales, CGI
Miami, FL (PRWEB) July 23, 2014
CGI Windows & Doors, Inc., continued the company's long-standing tradition of supporting the architectural community through premier sponsorship of the AIA Florida convention, held July 17-20 at the Trump Doral in Miami.
"The architectural community – and specifically AIA Chapters in Florida – has been very important to us," said Steve Dawson, EVP Sales of CGI Windows & Doors. "Our goal is to do all we can to support the profession and build strong relationships to carry into the future."
CGI again hosted an opening night drinks and desserts reception, and then a golf tournament on The Great White Course the second day. Day three of the conference brought a continuing education course focusing on energy-efficient doors and windows – complete with a CGI plant tour – and closed with CGI being recognized as the 2014 AIA Florida Allied Member of the Year.
"It was an exciting, educational conference, and we were proud to be able to support AIA Florida," continued Dawson. "We look forward to continuing our strong relationship with them in the years to come."
CGI is a member and supporter of AIA Florida Chapters in Miami, Ft. Lauderdale, Gulf Coast, Orlando, Palm Beach, Tampa, and Treasure Coast.
The Allied Member of the Year award recognizes an Allied Member (state component only) who is not an architect, but who, by their interest, participation, and concern, has promoted and contributed to the dignity and value of AIA Florida and the architectural profession as a whole. The award is given to an FA/AIA Allied member for outstanding service to the Association that is over and above what is normally required of members.
Established in 1992, CGI Windows and Doors was the first manufacturer of hurricane windows and doors to offer laminated glass that met Miami-Dade County impact standards – the toughest in the country. Today, every window and door in the CGI product portfolio meets – and exceeds – Miami-Dade standards. For more information or to locate an independent dealer, please call 800.442.9042, or visit us at http://www.cgiwindows.com, on Facebook as CGI Windows and Doors, on Twitter as @CGIwindows, on LinkedIn at CGI Impact Windows & Doors, and on Google+ at +cgiwindows.