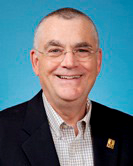 'Steve has been an invaluable asset to PHA,' said PHA President and CEO Rino Aldrighetti. 'Through his work on PHA committees and his understanding of the patient and as well as the caregiver, Steve is a shining example of turning tragedy into triumph.'
Silver Spring, MD (PRWEB) July 23, 2014
Dr. Stephen L. White of Hancock, Mass., recently took the helm as Chair of the Board of Trustees for the Pulmonary Hypertension Association (PHA). PHA is the country's leading pulmonary hypertension association and works to find ways to prevent and cure pulmonary hypertension (PH) – a disease of the lungs that affects the functioning of the heart and can lead to right heart failure. Without treatment, mean survivability is only 2.8 years. White lost his daughter to PH in 2002.
White has been involved with helping PHA support groups deal with grieving and spirituality. He also serves as chair of PHA's Executive Committee and sits on several PHA committees, including Strategic Planning, Governance, and Development, and is active as a lobbyist for PHA on Capitol Hill.
"Steve has been an invaluable asset to PHA," said PHA President and CEO Rino Aldrighetti. "Through his work on PHA committees and his understanding of the patient and as well as the caregiver, Steve is a shining example of turning tragedy into triumph."
White, a native of Leominster, Mass., served as Episcopal chaplain at Princeton University from 2000 to 2008. He currently serves All Saints' Episcopal Church of the Berkshires in North Adams, Mass., as an interim pastor and provides spiritual mentoring to students at Yale Divinity School. Prior to entering the ordained ministry in 1997 White worked in various capacities in the not-for-profit and for-profit sectors of the health care field including hospital administration, managed psychiatric care, teaching and health services research at the University of South Florida College of Public Health, and developing health promotion services and hospital consulting services as a Vice President at Johnson & Johnson Health Care Systems. White also co-founded two start-up software companies; Preferred Systems (acquired by Computer Associates) and Bowstreet (acquired by IBM).
This is White's third term on the PHA Board of Trustees and his first as chair. White holds a BA degree in psychology from Southern Connecticut State University, an MSW in clinical social work from Smith College School for Social Work, an MPA in health care management from Golden Gate University, and a M.Div. from The General Theological Seminary. He also holds a Ph.D. in health economics and management from The Heller School at Brandeis University and an honorary doctor of humane letters degree from Cuttington University College in Liberia, West Africa.
About the Pulmonary Hypertension Association
Headquartered in Silver Spring, Md., the Pulmonary Hypertension Association (PHA) is the country's leading pulmonary hypertension organization. Its mission is to find ways to prevent and cure pulmonary hypertension and provide hope for the community through support, education, research, advocacy and awareness. PHA does this by connecting and working together with the entire PH community of patients, families and medical professionals. PHA facilitates more than 245 support groups around the country and delivers continuing education for medical professionals.