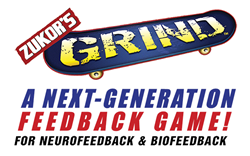 Zukor's Grind is a specialized "video game" developed expressly to be used as a biofeedback/neurofeedback training tool.
(PRWEB) July 24, 2014
The Biofeedback Federation of Europe is pleased to announce a new distribution agreement with game development company Zukor Interactive. The agreement provides for collaboration between the two groups to offer Zukor's Grind, a next-generation feedback game to clinicians using biofeedback and neurofeedback in European and international markets.
Zukor's Grind is a specialized "video game" developed expressly to be used as a biofeedback/neurofeedback training tool. Typical training provides feedback with bar graphs, line graphs, basic animations and/or DVDs. Zukor's Grind enhances training by replacing the simple feedback animations and DVDs with a feedback skateboarding game. Changes in the subject's physiology or brainwaves dictate the pace and progress of the game, the number of points scored, what skateboarding tricks are achieved, and which special effects are activated.
BFE Research Manager, Jon Bale, had a chance to review the software and commented, "Clinicians will be excited that they finally have access to a truly next-generation biofeedback and neurofeedback games that capture client interest while not being overwhelming. Samuel Turcotte and the Zukor Interactive team have their finger on the pulse for what the biofeedback world has been looking for in terms of an interactive training tool. I look forward to future Zukor's game releases."
Samuel Turcotte, President & Chief Technology Officer, Zukor Interactive had this to say, "The BFE provides a critical role in biofeedback education via a veritable who's who of industry pioneers and leaders. We are pleased to be working with the BFE to provide the first of our next-generation feedback games, Zukor's Grind, to clinicians around the world through the BFE Online Shop."
About Zukor Interactive
Zukor Interactive is a startup company that designs and builds innovative games, interactive software and specialized content for computers, mobile devices, videogame consoles and the Web. Zukor Interactive was founded in July 2010 by Samuel Turcotte, who brings his extensive experience in digital-media computer technology and filmmaking together to develop cutting-edge products for specialized fields, including healthcare, education, business, military and science, in order to further human progress and help make the world a better place. For more information please visit: http://www.zukorinteractive.com.
About the Biofeedback Federation of Europe
The Biofeedback Federation of Europe (BFE) is community interest company in the UK leading the way to share knowledge in the field of biofeedback. Through its "Learn From the Best" program, it offers a variety of webinars, online classes, courses, software and workshops with applications in healthcare, mental health, optimal performance and sport. Content is developed independently by International Research & Education Project teams. For more information, visit the BFE Online Shop.
Contact: Carol Meyers
BFE Education Manager
education(at)bfe(dot)org