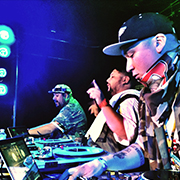 Santa Fe, NM (PRWEB) July 22, 2014
Santa Fe Indian Market® showcases the best of Native Arts for national and international attendees who come to Santa Fe to experience incredible innovation happening in Native fashion, cinema, artwork, and music. This special one time event is part of the Indian Market Week® programming and is co-sponsored by the Smithsonian's National Museum of the American Indian (NMAI), the Southwestern Association of Indian Arts (SWAIA), and the Museum of Indian Arts and Culture (MIAC). This concert, an "Electric Powwow" as the group refers to their events, will be free and open to the public as an extension of the Native Cinema Showcase film festival. The concert is to be held on August 21, 2014 starting at 8pm, on Museum Hill at the Museum of the Indian Arts and Culture.
Coming off of an International tour, DJ NDN, Bear Witness and 2oolman will be spinning for the first time ever at Santa Fe Indian Market 2014.
Emerging out of Canada, A Tribe Called Red's DJ crew has created an amazing hybrid between Native powwow songs and new age electronic music, hitting the world by storm. Since first spinning together in 2010 ATCR has become the face of the intertribal Native music scene, gaining not just a Native following but an international fan base as well. Proud advocates of their Native heritage ATCR speaks out on aboriginal issues, while staying on the cutting edge of Native music, fashion and art. Bear Witness creates the crews visuals used for their Electric Powwows, incorporating political, native and aboriginal humor. Their events are truly electric in that they spark a connection between their audience's musical/ political pulses highlighting current issues in Indigenous communities today.
On May 7th, A Tribe Called Red released their second full-length album, Nation II Nation in Canada and in the USA on Tribal Spirit Music. The album was nominated on the shortlist of the Polaris Music Prize as one of the 10 best Canadian album of the year and 4 APCMAs (Aboriginal Peoples Choice Music Award) for best group, best producer, best album and best cover art. ATCR have also collaborated and produced one of the last known Das Racist song called Indians From All Directions as well as the song A Tribe Called Red on Angel Haze's album Dirty Gold.
This event is expected to bring over 2,000 attendees to the Museum Hill Lot and can be followed via the SFIM official Facebook, Twitter, and Instagram pages using #SFIM14 #ATCR #MuseumHill.
About SWAIA Santa Fe Indian Market
The Santa Fe Indian Market exists to provide a platform for established and aspiring Native/Indigenous artists to nurture and sell the art they create.
###