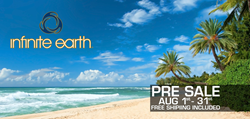 Infinite Earth: created and founded to make a difference
Anaheim, CA (PRWEB) August 05, 2014
Infinite Earth is a brand new start-up sustainable lifestyle apparel brand. The apparel is made from organic cotton and recycled materials to help consumers decrease their carbon footprint and develop a lifestyle of sustainability. Infinite Earth provides eco-conscious surfers, bikers, skaters and the like, access to clothing made with ecofriendly and renewable materials . The Infinite Earth brand was developed to promote a global mission of forward thinking environmentalism. It's a brand that fuses ecofriendly values with great style and great looks .
"Because the earth is becoming more environmentally compromised, the demand for eco-conscious products has increased exponentially. We have a built a brand from the ground up to help the world develop towards sustainability," says spokesperson, Michael David.
With environmental preservation and restoration becoming an increasingly pressing and important issue, the creators of Infinite Earth sought to provide products that promote the wellbeing of both mankind and the earth. Infinite Earth currently offers apparel made with organic, Oeko-Tex® Standard 100 Certified organic cotton fiber, and hats made with sustainable bamboo . The iconic perpetual wave logo, and the uses of words "Infinite" and "Earth" in the company name represents what the company wishes to accomplish: a perpetual and infinite earth .
The health and wellbeing of natural and social environments is the cornerstone of Infinite Earth's eco-conscious mission. David continues, "We make every effort to utilize materials and processes that minimize the impact we have on the planet, as well as focusing on the health and safety of those who work for our organization."
About Infinite Earth
Infinite Earth is an equal opportunity startup lifestyle clothing company founded in Anaheim, California. The Infinite Earth mission is to deliver clothing that helps preserve oceans, land, rivers and mountains-- clothing that is made from quality sourced organic, recycled and sustainable materials. By using water based inks, organic cotton that's free of pesticides, and using sustainable materials such as bamboo and recycled materials made from plastics, we are building a brand that serves the greater good of the earth and mankind for generations to come.
Contact:
Michael David
Infinite Earth
2121 W Chateau Ave Anaheim, CA 92804
714-563-0990
http://www.infiniteearth.com