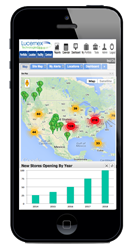 Lucernex is thrilled to have H-E-B as a new customer as we continue to expand into the retail grocery sector in 2014
(PRWEB) July 23, 2014
Lucernex Technologies announced today that H-E-B (HEB Grocery Company, LP) is now live on Lucernex's Lx Contracts Lease Administration and Rent Accounting solution to manage its portfolio of over 350 multi-branded grocery retail stores. H-E-B operates grocery retail stores primarily under the brands of H-E-B stores, Central Market, H-E-B Plus!, Mi Tienda and Joe V's Smart Shop.
H-E-B's goals for this project were to optimize efficiency, streamline processes and minimize costs with a True Cloud solution. With the deployment of Lx Contracts, H-E-B can now actively examine historical, current and future lease expenses, eliminate risks associated with critical dates through email notifications and dashboard alerts, and manage all locations for multiple brands within one system.
Lx Contracts consolidates all Lease Administration and Rent Accounting data across all H-E-B brands within one Portfolio. H-E-B's senior management now has the ability to access and analyze lease data, as well as run advanced reporting across all brands and stores within one system.
"Lucernex is thrilled to have H-E-B as a new customer as we continue to expand into the retail grocery sector in 2014", stated Mike Nuzum, CEO of Lucernex. "Our sincere commitment to providing excellent customer service will always be a top priority for Lucernex."
Lucernex has received an ISO 9001 certification for excellence in customer support and has won Stevie Awards for customer support two years in a row. Lx Contracts is the Lease Administration and Rent Accounting module of Lx Retail, the market leading Retail IWMS solution, designed by retailers for retailers. Lx Contracts can support any size portfolio of stores including language, currency, date and location support worldwide.
Implementation of the Lx Contracts solution began in March 2014 and H-E-B was live on Lx Contracts in July 2014.
About Lucernex
Founded in 2000, Lucernex Technologies provides retail real estate professionals with powerful True Cloud solutions to manage the entire store lifecycle. All Lucernex solutions were designed "by retailers for retailers" and can manage any size portfolio of leased and owned properties. Advanced technology drives all Lucernex solutions ensuring they are fully mobile enabled, international, secure and easy to integrate with the enterprise. Lx Retail, from Lucernex, is the marketing leading Retail IWMS solution, used by Fortune 500 retailers every day to select, open and manage their stores better. For more information, please visit http://www.lucernex.com.
About H-E-B
H-E-B, with sales of more than $20 billion, operates more than 350 stores in Texas and Mexico. Known for its innovation and community service, H-E-B celebrated its 105 anniversary in 2010. Recognized for its fresh food, quality products, convenient services, and a commitment to environmental responsibility and sustainability, H-E-B strives to provide the best customer experience at everyday low prices. Based in San Antonio, H-E-B employs more than 80,000 Partners and serves millions of customers in more than 150 communities.
# # #