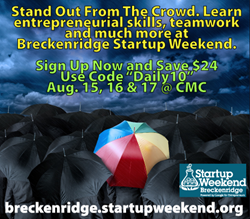 This weekend could change your life.
Breckenridge, CO (PRWEB) July 24, 2014
Fifty-four hours, dozens of people, hundreds of great ideas and 60 seconds, all for the opportunity to change your life and start something amazing, meaningful or just downright cool. Breckenridge Startup Weekend happening Aug. 15-17 gives anyone the opportunity to pitch an idea on Friday night in 60 seconds or less to a group of local executives, entrepreneurs, designers, developers, founders, startups, digital experts and students.
After a vote, teams form around the top ideas and then it's 54 hours of creating, designing, researching, analyzing, developing, coding and teamwork all to present to a panel of expert judges and local startup veterans. Prizes will be awarded to help the teams put their ideas into action and build a startup.
"This weekend could change your life," says Thomas Gerber, local volunteer organizer of the Breck Startup Weekend. "So many people have ideas and dreams but never act on them. We're giving those people a supportive environment, a team, the right tools, coaching and a tight deadline to work on their idea and make it a reality."
Even if you don't have an idea or don't want to pitch, come, says Gerber. If you're intrigued with the idea of a startup or want to support a startup idea, come. "This is an opportunity to be part of a movement in Summit County to create a vibrant, smart, progressive startup community," he adds.
According to Gerber, Friday night is the perfect time and opportunity to find out more. "Just sign up for Friday night and think of it as a networking session with some very motivated, energetic, smart people," he says. "Chances are, you might want to step up to the mic and pitch an idea or find an idea to support."
Breckenridge Startup Weekend starts at 6:30 p.m. Friday, Aug. 15 and runs through 9 p.m. Sunday, Aug. 17 at Colorado Mountain College in Breckenridge. For more information or tickets, visit http://www.breckenridge.startupweekend.org or connect on social at http://www.facebook.com/swbreck or on twitter.And for a limited time only, the tickets to this incredible event are only $75 a savings of $24. Just enter the code Daily10 to receive the discount.
ABOUT STARTUP WEEKEND: Startup Weekend is a 501c(3)non-profit based in Seattle, Wash. Founded in 2007 in Boulder, Colo., by Andrew Hyde, the organization has been based out of Seattle since 2009 under the direction of Marc Nager. Supported by a grant from the Kauffman Foundation, Startup Weekend has held over 325 events around the globe, inspiring nearly 30,000 entrepreneurs to take an idea from concept to launch. For information about the Breckenridge organization, please visit http://www.up.co/communities/usa/breckenridge/startup-weekend/3836.