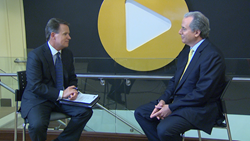 Atlanta, GA (PRWEB) July 23, 2014
CBT News Founder and CEO Jim Fitzpatrick interviewed Mike Maroone, president and chief operating officer of AutoNation, about several emerging trends in retail automotive, AutoNation's investment in its customer care centers, and its plans to acquire more dealerships.
One area addressed was what Maroone called AutoNation's "perpetual hunt" for the nation's most talented people. He explained how recruiting employees today differs from years past, with staff requiring not only basic technology skills, but phone skills as well. The company has an eye toward hiring more millennials in an effort to connect with the Gen Y age group.
Part of the interview will air on CBT News' daily newscast on Wednesday, July 23. To see the interview in its entirety, visit CBTNews.com and click on the "View from the Top" page.
About CBTNews and Car Biz Today Magazine
CBT News/Car Biz Today is an online news source dedicated to providing the retail automotive industry with news, training and event coverage through various forms of multi-media journalism. The online news source has more than 25,000 subscribers made up of new car dealers and their personnel. CBT News is home to award-winning broadcasters and is headquartered in Atlanta, Ga.
Car Biz Today Magazine is a monthly publication, reaching more than 17,000 new car franchises in North America. As with the website and newscast, Car Biz Today Magazine provides informative, upbeat and relevant information for retail automotive executives and their personnel. Learn more at cbtnews.com.