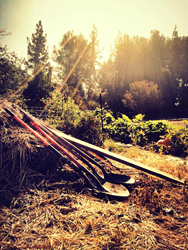 Our Farm to Table Community Feast is an opportunity to share our farm's abundance with the community
Northridge, CA (PRWEB) July 23, 2014
Highland Hall Waldorf School invites you to its second annual "Farm to Table Community Feast" to be held on Saturday, September 20 on the Highland Hall campus in Northridge, California. The event is open to everyone and families with children of all ages are encouraged to join in the fun.
Guests will be treated to a delicious organic dinner served "family style" prepared on site by Highland Hall alumi Chef Reme Loosli from the Heart of Cooking and the Kaplan family from Hugo's Restaurants. The community meal will feature freshly harvested produce from the school's biodynamic farm along with other locally sourced ingredients. The feast is suitable for most dietary restrictions.
Farm-to-Table is community building event that serves as outreach for the Highland Hall Waldorf School that has been part of the Northridge community since the early 1960's. Administrative Director, Lynn Kern, describes the event as a "friend-raiser".
Farm-to-Table is also designed to bring awareness to the school's Biodynamic Farm program which teaches children and adults about the benefits of natural cycles-planting, harvesting, and composting. Director of the Biodynamic Association, Robert Karp, explains, "Biodynamics is based on organics, but goes beyond it. It's a holistic approach to agriculture that achieves health of the landscape and soil by working with the farm as a living organism - as a whole, not a series of parts."
Highland Hall's ever-expanding Biodynamic Farm features twenty-four raised garden beds filled with seasonal fruits, vegetables, herbs, and flowers, a field for row crops, an orchard, a small bee yard, and a flock of chickens--all of which are tended by students under the supervision of farm manager Bridget Kelley.
Throughout the year, the school invites many organizations and community members to visit their 11 acre campus to learn more about urban farming, biodynamic agriculture, and environmental stewardship. Farm-to-Table is just one of many opportunities to engage the larger of community of Los Angeles. Kelley explains, "Our Farm to Table Community Feast is an opportunity to share our farm's abundance with the community".
The school anticipates 200+ guests in attendance including members of the Los Angeles Neighborhood Land Trust, representatives from Council District 12, families and alumni from the local Waldorf Schools, and members from Northridge, Porter Ranch, Chatsworth communities and beyond.
Musical entertainment will be provided by the High Strung String Band with hand-clapping, foot-stomping folk tunes and a square-dancing caller. Games and fun for younger children will be available.
Advance tickets are available at an incredible price of $25/adult, $15/child (under the age of 6 are free). After September 13th, ticket prices will increase by $5. Tickets are available for purchase online: TICKETS
Be sure to buy your tickets now, for this special event!
Farm to Table Community Feast
Saturday, September 20, from 4 to 7 pm
at Highland Hall Waldorf School
17100 Superior Street
Northridge CA 91325
http://www.highlandhall.org
Sponsors and Supporters of Highland Hall's Farm-to-Table Community Feast 2014
Whole Foods - Northridge
Hugo's Restaurant
Remedios Loosli the Heart of Cooking
Jodi Maroni's Sausage
Tolerant Friendly Products
Authentic Foods
The Garden Gnome Society at Highland Hall
KCSN - 88.5
Councilmember Mitch Englander - CD12
Los Angeles Neighborhood Land Trust