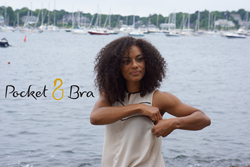 The Lingerie Industry is Getting Innovative with a New Bra that has Radio Frequency Shielding Protective Fabric.
Marblehead, MA (PRWEB) July 24, 2014
PocketBra is leading innovation in the lingerie industry with the first ever patented bra with pockets for cell phones and other personal items. Now, PocketBra by SherryWinks, LLC has announced it is using radio frequency shielding fabric (RF Fabric) in each of it's four pockets, covering the breast cups and side panels with the shielding fabric.
Women are increasingly storing cell phones and other items in their bras. "Keeping one's possessions close, convenient and accessible while being hands free is liberating and empowering for women. There is growing concern for possible radiation from radio frequency and electro magnetic fields from all sorts of sources including cell phones, power lines, wireless networks, etc," explains Sherry Goff, Founder and CEO of PocketBra. "We want women to feel safe especially while storing technology in their PocketBras."
PocketBra has recently launched a Kickstarter campaign to raise funds for the Radio Frequency Shielding PocketBra. "Because the bra cups and side panels are lined with fabric containing silver, women can feel secure in knowing they are adding that extra layer of protection from potential environmental radiation whether they have items in their PocketBras or not," said Sherry.
ABOUT SHERRYWINKS, LLC
Now based in Marblehead, MA SherryWinks, LLC was founded in 2011. The Utility Patent for PocketBra was issued in 2013. The new RF Fabric Bra with shielding fabric is patent pending.