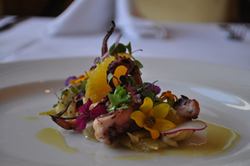 Residents love to go to concerts in the park or to the beach or museum and we love to make sure that they have a great meal while they're out.
(PRWEB) July 23, 2014
Picnic Lunches
Residents of The Clare can now enjoy the abundance of nearby amenities including outdoor concerts and festivals, while still dining on the fabulous cuisine of Chef Hagop Hagopian. "Residents love to go to concerts in the park or to the beach or museum and we love to make sure that they have a great meal while they're out," said Brian Hughes, director of dining services for The Clare. "We offer picnic lunches that the residents are just loving."
Hagopian, the executive chef of The Clare is trained in French cuisine and has won many prestigious awards. Under his supervision, picnic offerings include Brie and Bosc pear salad, tomato caprese salad, roasted vegetables crudité, shaved leg of lamb, chicken pesto salad and more. Desserts include vanilla cheesecake, flourless chocolate cake and apple tart. "Everyone can build their own picnic by choosing each course. We offer this seven days a week with just 24 hour notice," said Hughes.
Café Series
Food and drink are hot topics now, with popular cooking shows topping the charts. With this in mind, The Clare has launched its weekly Café Series, a popular demo and discussion forum about culinary topics.
"The residents of The Clare are always interested in learning more about food, wine, beer and cocktails. It's fun to explore different related topics with them," said. Brian Hughes, director of dining services. "In Wine 101 we discussed why we pair different wines with different foods. We then served tastings. We had chardonnay with pear salad, pinot noir with shrimp and mango chutney and we finished with a blend and beef tenderloin."
Martini Mixology focused on fun summertime martinis including pear, lychee and mango concoctions. Hot Dogs Around the World compared hot dogs from around the world with the authentic Chicago dog. Cupcakes and Cabaret featured a cupcake tasting accompanied by cabaret music by a live pianist. Later this summer Hughes said, they will discuss beer and cheese. "We'll sample four different beers and then also taste them infused into four different dipping sauces."
Hughes said that he also brings in guest speakers. "Argo Tea came in and presented a sampling," he said. "Residents of The Clare are always looking for ways to expand their knowledge about many different topics and this is a fun way to learn more about food."
The Clare at Rush and Pearson is a Life Care retirement community in the heart of Chicago's Gold Coast with incomparable lifestyle, amenities and the financial stability only a debt-free community can offer. The Terraces at The Clare, which partners with Northwestern Memorial Hospital, provides assisted living, memory support, rehabilitation and skilled nursing. The Terraces has earned the 5-star quality rating by the Centers for Medicare and Medicaid Services. The Clare is owned by Chicago Senior Care and managed by Life Care Services. For more information visit: http://www.TheClare.com or call 312-784-8100.