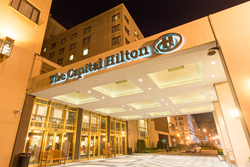 We couldn't be more excited about PURE Rooms at the Capital Hilton
Washington, DC (PRWEB) July 24, 2014
The Capital Hilton, a historic luxury hotel in downtown Washington, DC, just added 24 allergy-friendly guest rooms to its list of premier amenities. The hypoallergenic rooms are provided by PURE Solutions, an innovative allergy travel company with nearly 300 hotel affiliates nationwide.
"We couldn't be more excited about PURE Rooms at the Capital Hilton," said hotel General Manager David Piscola. "These rooms enable us to provide the highest level of service and comfort to all of our guests, including those with asthma and allergies."
PURE Rooms are treated according to a patented 7-step process that kills and protects against 98-100% of viruses, bacteria and other irritants that are harmful to people with asthma and allergies. PURE's allergy travel technology creates an environment that is more comfortable for allergy-sufferers and also provides a more relaxing and rejuvenating experience for all hotel guests.
Brian Brault, CEO of PURE Solutions, praised the Capital Hilton's decision to address allergy travel needs and their commitment to the health and wellbeing of their guests.
"The Capital Hilton is an outstanding hotel with a history of exceptional service," Brault said. "By adding an allergy-friendly room type to their list of offerings, the Capital Hilton ensures that all visitors to the hotel are able to enjoy a comfortable night's stay away from home."
Located just two blocks from the White House, the Capital Hilton has hosted every US president since its opening in 1943 while Franklin D. Roosevelt was in office. The landmark hotel is recognized on the National Register of Historic Places.
PURE technicians will began the installation on the 24 new allergy-friendly rooms on July 7th, making them available to guests now.
About PURE Solutions
PURE Solutions utilizes state-of-the-art purification technology to create allergy-friendly environments that are 98-100%-free of viruses, bacteria and other harmful airborne particles. Each PURE Room is comprehensively treated to remove allergens and irritants from all hard surfaces, fabrics and air. To learn more about the PURE process and to book a room at one of their 300 partnering hotels nationwide, visit pureroom.com.
About Capital Hilton
Gracious hospitality awaits guests at the historic Capital Hilton, which offers a thoughtful blend of refreshed, contemporary surroundings and luxurious modern conveniences. Recognized for notable significance on the National Register of Historic Places, the Capital Hilton's central location on K Street rewards guests with all the excitement of downtown Washington, DC. From contemporary American cuisine and classic cocktails in the Statler Lounge to the Hotel's MINT Downtown Health Club and Spa, the Capital Hilton's amenities exceed expectations with a full complement of convenient, premium services.
For more information about the Capital Hilton, please visit their website at http://www.thecapitalhilton.com.