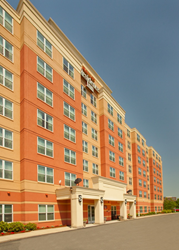 Travelers today are seeking a hotel that reflects their lifestyle and enables them to realize their fullest sense of self
Boston, MA (PRWEB) July 29, 2014
The Residence Inn Boston Woburn, a deluxe extended-stay hotel on Boston's North Shore, will add 7 new allergy-friendly guest rooms on July 6th. These rooms will be provided by PURE Solutions, an allergy travel company with nearly 300 affiliated hotels nationwide.
PURE Rooms are treated according to a patented 7-step process that makes them more comfortable for people with asthma and allergies. PURE technology removes 98-100% of viruses, bacteria and other harmful irritants from both surfaces and the air to provide hotel guests with a more rejuvenating and restful night's sleep.
The Residence Inn Boston Woburn joins a growing list of allergy-friendly hotels in the greater Boston area and will be the first to offer allergy travel accommodations on the city's North Shore.
General Manager Michael Bissonnette believes PURE Rooms are an extension of her hotel's mission to provide superior accommodations, especially for business and extended-stay travelers.
"At the Residence Inn, we want to offer our guests all the comforts of home," said Bissonnette. "An allergy-friendly option ensures that travelers with allergies can experience the same night's sleep and the same relaxing environment at our hotel that they enjoy when they are at home."
Brian Brault, CEO of PURE Solutions, also emphasized the importance of allergy-friendly alternatives in the hospitality industry.
"Travelers today are seeking a hotel that reflects their lifestyle and enables them to realize their fullest sense of self," Brault said. "Allergy travel is not only about providing the most breathable air and the highest quality rooms. It's also about helping travelers to live on their own terms and to get the most out of their time away from home."
About PURE Solutions
PURE Solutions utilizes state-of-the-art purification technology to create allergy-friendly environments that are 98-100%-free of viruses, bacteria and other harmful airborne particles. Each PURE Room is comprehensively treated to remove allergens and irritants from all hard surfaces, fabrics and air. To learn more about the PURE process and to book a room at one of their 300 partnering hotels nationwide, visit pureroom.com.
About Residence Inn Boston Woburn
The Residence Inn Boston Woburn offers stylish and comfortable accommodations at a substantial value on Boston's North Shore. Perfect for weekend getaways or corporate retreats, the Residence Inn Boston Woburn provides easy access to all North Boston attractions, including downtown, Fenway Park and Logan Airport. Each deluxe room features a fully equipped kitchen, separate living area and ample space for work or play. For more information about the Residence Inn Boston Woburn, please visit their website at http://www.residenceinnwoburn.com.