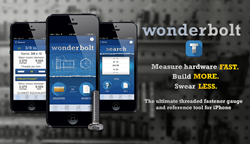 After a few project rescues with Wonderbolt, you'll wonder how you ever built without it!
Nyack, New York (PRWEB) July 23, 2014
To all the hobbyists, do-it-yourselfers, and hands-on types out there, a new iPhone app proves to be a must-have tool in anyone's kit. "Wonderbolt" drives bolt and screw measurement into the 21st century, turning even the 'fix-it' novice into a pro on the go.
Fasteners like bolts and screws are a small but crucial part of any successful task. However, complications can be both frustrating and costly, as most mistakes stem from size misinformation. Until now, measuring a bolt or screw meant purchasing pricey gauges, searching through tiny charted numbers, time-consuming trial-and-error guesswork, and a few anxious trips to the hardware store, fingers crossed, in the hopes the part is in stock.
Wonderbolt comes to the rescue by taking the hard out of hardware measurement!
Designed to be the fastest and easiest way to measure, identify, and cross-reference threaded fasteners, Wonderbolt gives craftspeople of any skill level the upper hand. The iPhone-based app allows the measurement of both US and metric bolts and screws, including the outer diameter, length, and thread count. For that quick project fix, Wonderbolt provides all the information needed to make hardware store purchases confidently and easier, or in today's age, place a correct order online.
If that were not helpful enough, Wonderbolt also provides relating information from five different reference charts for a measured size. Skip the familiar hit-or-miss attempts for the right sized tool! Wonderbolt can offer the correct socket or Allen wrenches, provide decimal equivalents in both inches and millimeters, or assist in visualizing the appropriate drill bit size for a clearance hole. "It's hardware store help right in your pocket," notes Wonderbolt creator Josh Koerpel, "supporting your present and future projects as a useful, on-the-job reference."
The only thing more convenient than the app itself is the price tag. Wonderbolt offers this combination of various measurement gauges and reference charts for less than the cost of a few bolts. Says Koerpel, "Wonderbolt is really the last fastener gauge you'll ever need to buy. Add it to your tool kit and have decisive information on hand, right in your hand. Trust me, after a few project rescues with Wonderbolt, you'll wonder how you ever built without it!"
See Wonderbolt in action on YouTube.
Or visit http://www.wonderboltapp.com for more information, testimonials, and to sign up to be notified upon Wonderbolt's iPhone release.
Wonderbolt is the creation of tall ship sailor and mechanical engineer, Josh Koerpel, someone who knows a thing or two about the hardware problems that can occur on the job. In 2013, Koerpel founded Brytework Apps, a collection of artists and engineers who blend art and technology into useful solutions. Visit their website http://www.bryteworkapps.com for more information.