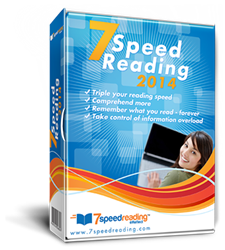 Reading requires a lot of focus and the more concentrated the reader is, the more they will get out of the book they are reading.
New York City, NY (PRWEB) July 27, 2014
7 Speed Reading™ creator eReflect has released a new blog post on what "the art of reading" truly entails. In this blog post, eReflect emphasizes that the best approach to reading consists of the 4 Rs: Read, Retain, Relate, Read. By implementing this reading strategy, people will be able to get the most out of each piece of content they read.
eReflect points out that unless reading takes place in a distraction-free environment, even this method will be less successful. Reading requires a lot of focus and the more concentrated the reader is, the more they will get out of the book they are reading.
Once the first step of finding a quiet place to READ is accomplished, the RETAIN step must be practiced. As eReflect explains, during this stage the reader is called upon to process what's being read in a way that allows them to pass that information on to another person. By doing the mental processing that allows a person to explain essential information to someone else, the reader is forming the neural connections that will ensure that this information is effectively stored in their brain.
The RELATE stage is the one that requires a lot of cognitive processing and effort on behalf of the reader. While retaining involves the processing of new facts, the relate stage involves making sure that knowledge is integrated with previously-stored information in the person's mind. Many people don't go as far as this third step, they simply process and accumulate knowledge. Advanced readers, however, seek to relate that knowledge to their existing facts, and form new systems and connections that further boost their knowledge.
This third stage is important because it helps people develop their critical and creative skills. They will see how a new fact relates to, contradicts, or complements existing ones. It's a continuous process of knowledge acquisition and adjustment.
The fourth step is identical to the first, but it's repeated for a reason. In this case, READ means never ceasing to accumulate new knowledge through reading, as this is the key to success in many areas of life. eReflect offers learners several speed reading techniques through the 7 Speed Reading™ software to help them in reading faster so that they can get through more books and accumulate the most information.
************
For more information about the benefits of using 7 Speed Reading, please visit the official website at http://www.7speedreading.com.
About 7 Speed Reading™
7 Speed Reading is the only modern speed reading software that uses the latest technology to produce superior results.
The software provides its users with a new way to master speed reading that guarantees three times the reading speed along with improved memory and comprehension.
The software is poised as the most comprehensive speed reading system anywhere. It contains seven learning strategies, fifteen software activities, video training, advanced tracking capabilities and many more exciting features.