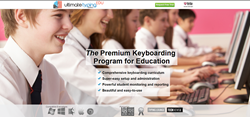 Typing for schools should become standardized given this skill's importance both in school and in the workplace.
New York City, NY (PRWEB) July 28, 2014
eReflect's typing program for schools, Ultimate Typing™ EDU, offers students a compelling and easy to use interface. According to the Ultimate Typing™ EDU designers, the easy to use interface features an intuitive layout and a minimalist function menu to ensure students can easily find their way around the program, even if there's zero guidance from an administrator or teacher.
The challenge for the eReflect designers and developers was to create a program that could offer state-of-the-art technologies like the live monitoring and reporting technology while ensuring the software is not heavy with complicated features and menus that make it hard to navigate. Initial feedback by teachers and students reveal that the eReflect designers have struck a perfect balance between form and function, creating a feature-rich software for touch typing while making it user-friendly.
The keyboarding program for teachers and students is equipped with results-focused exercises, fun activities, and plenty of typing games to ensure students find touch typing lessons at schools engaging and not boring.
eReflect has also made sure that teachers enjoy using the program, providing the convenience of easily showing results for each registered user through the system's powerful tracking technology. The teacher can see in real time any student's progress, and can focus on the student's hand, key and finger accuracy and performance. The program is designed to offer all these insightful data points, which teachers can quickly turn into actionable information to adjust their students' learning experience on a daily basis.
Many students have given up on touch typing because they tried to learn to type using the wrong resources. Ultimate Typing™ EDU offers a comprehensive touch typing curriculum which makes it essentially impossible not to learn to type. Typing for schools should become standardized, says eReflect, given this skill's importance both in school and in the workplace. Students need to have advanced typing skills as this will not only benefit them academically, but will also benefit them in their personal and professional lives, saving them hundreds of hours each year.
*********
For more details on Ultimate Typing™ EDU please visit http://www.ultimatetyping.com/schools.
About Ultimate Typing™
Ultimate Typing™ software is designed specifically for the improvement of typing skills. Created by eReflect, a world leader in e-learning and self-development software, Ultimate Typing™ has been informed by the latest developments in the science of touch typing.
Since its creation in 2006 by Marc Slater, the company has already catered to over 112 countries all over the world, offering products with the latest cutting-edge technology, some of which are among the world's most recognized and awarded in the industry.