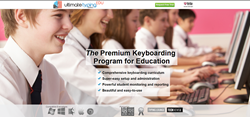 Touch typing mastery means a student can learn to be a confident computer user who is not intimidated by workload because their typing skills are above par.
New York City, NY (PRWEB) July 31, 2014
Learning how to type used to mean trying to figure out a typing method that often relied on the "hunt and peck" two-finger strategy. Before computers and keyboards began playing a central role in business, this generally was sufficient for the average employee. However, the 21st century job market is not as forgiving, and future employees need to be efficient typists with above-average typing speed and accuracy.
Understanding the key role typing skills have when it comes to a person's employability, eReflect has designed Ultimate Typing™ EDU, a program that teaches basic typing skills to young students. Developed by the same expert designers who created Ultimate Typing™, Ultimate Typing™ EDU is equipped with handpicked technologies and features to makes learning time-efficient and results-oriented.
Technologies such as the live monitoring and reporting of students' progress, the cloud-based structure of the program, and its easy-to-use interface are features that make the program an outstanding tool for any school.
Using app technology, the program allows school administrators to purchase Ultimate Typing™ EDU subscriptions at affordable prices and obtain deals so that as many students as possible can improve their typing skills. The program has been designed to offer stand-alone keyboarding classes. However, it can be also easily integrated into existing curriculum of IT courses.
In either case, the program offers a comprehensive curriculum so that the teacher doesn't have to enrich their keyboarding class with extra resources or activities. In fact, the program requires minimal intervention by an administrator or teacher thanks to its intuitive design and interface, and once set up, can be used without supervision by the student.
Using Ultimate Typing™ EDU to teach students how to touch type will help them improve their school performance because they will be able to complete their school assignments and computer exams with no difficulty. What's more, by developing their typing speed and accuracy, students will be able to save many hours each week with the time they save each time they need to touch type to research, write a report, or communicate online.
Touch typing mastery means a student can learn to be a confident computer user who is not intimidated by workload because their typing skills are above par. This confidence will carry over into their future careers.
For more details on Ultimate Typing™ EDU, please visit http://www.ultimatetyping.com/schools.
About Ultimate Typing™:
Ultimate Typing™ software is designed specifically for the improvement of typing skills. Created by eReflect, a world leader in e-learning and self-development software, Ultimate Typing™ has been informed by the latest developments in the science of touch typing.
Since its creation in 2006 by Marc Slater, the company has already catered to over 112 countries all over the world, offering products with the latest cutting-edge technology, some of which are among the world's most recognized and awarded in the industry.