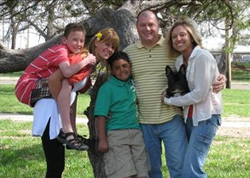 We wanted to educate not just our family but our community by experiencing many different cultures around the world ... next month we are preparing to welcome Caroline from Denmark into our home.
San Francisco, CA (PRWEB) July 23, 2014
Ayusa International, a non-profit organization that for 31 years has promoted global learning and leadership through high school student cultural exchanges and leadership programs, continues its annual search for families in Kansas interested in hosting international students for the 2014-2015 school year.
Ayusa is actively looking for Kansas host families throughout the entire state, specifically in and around the following communities:

Wichita suburbs, Andover, Newton
Salina, Abilene
Manhattan, Junction City, Wamego
Topeka
Lawrence
Overland Park
Mike and Julie Mohn of Abilene, along with their two adopted sons, Brayden and Colby (14 and 13, respectively) have been a host family for Ayusa international exchange students for six years. They first became involved in the hosting program as a means to connect Brayden, whose biological roots are in Kazakhstan, with other people as a bigger "family" network (Colby was adopted domestically and the family is in touch with his biological mother). Julie says they select a "big sister" for the boys from a different country every time they host, to broaden their horizons. "In addition, we wanted to educate not just our family but our community by experiencing many different cultures around the world," she added. "We've had students from the Netherlands, Germany, Romania, Switzerland, Mexico and Finland, and next month we are preparing to welcome Caroline from Denmark into our home, another big sister for the boys."
The Mohns are so convinced of the value of hosting these students that, when they built a new home several years ago, they designed it with a designated "exchange student room," and continue to decorate it with the national flags of every student who visits. "The flags art wall is a reminder of the cultures we've encountered, and which have touched our hearts," Julie said. "We've even let our former students know that they're welcome to stay in our home again if they want to attend Kansas State University," she added.
Ayusa (which stands for "Academic Year in the USA") works with diverse families who are interested in hosting an international student of high school age. Families without children, empty nesters, military families, retirees, and single people are all welcome. Ayusa families come from all 50 states and reside in rural, suburban and urban communities. Host families provide three meals a day and a bedroom (either private or shared). Each exchange student is supported by a professionally trained local representative from Ayusa who works closely with the family, student and local school throughout the program.
How to Host an International Student
Families interested in hosting an exchange student with Ayusa can follow three simple steps:
Step One: View information online about Ayusa's program and types of students that are interested in living with a host family and spending a year in the United States.
Step Two: Complete your Ayusa application and criminal background check for hosting, which can be done online. Ayusa will provide a list of questions about families and their local high school, request five references, and ask family candidates to sign a program agreement. An Ayusa representative can help complete the application, answer any questions and connect potential host families with other host families in a specific community.
Step Three: Once the application is submitted, an Ayusa representative will assist with completion of the additional hosting requirements – and an in-home interview with an Ayusa representative. Once a host family is approved, they may log in to select a student. Ayusa representatives can also help find a student to match a family's specific interests and activities.
Ayusa's exchange students are 15-18 years old and come from more than 60 countries around the world, including Brazil, Japan, Germany, Ecuador, France, the Netherlands, Morocco, China, and Spain. All students are fully insured, bring their own spending money, and are proficient in English.
"Kansas is a popular state for Ayusa exchange students visiting the U.S., perhaps because of its historical landmarks from American history, as well as its Midwestern hospitality and host families' enthusiasm in welcoming cultures from around the world," said Connie Coutu, Ayusa regional manager for the Southwestern U.S. "If you've ever wondered what it would be like sharing your Kansas lifestyle with a student from abroad, now is the time to take action – please give us a call to start building an international friendship that will last a lifetime!"
According to The Council on Standards for International Educational Travel (CSIET), more than 27,000 international high school students between the ages of 15 and 18 years old studied in the U.S. during 2013-2014 as part of U.S. government-sponsored international exchange programs. Ayusa has been a member of CSIET for more than 25 years – since its foundation. CSIET evaluates U.S.-based high school exchange programs so that students, families and schools can identify reputable inbound and outbound exchange organizations.
Ayusa is a 501(c)3, and an official U.S. Department of State designated Exchange Visitor Program Sponsor. Families interested in learning more about hosting a foreign exchange student can visit http://www.ayusa.org or call 1-888-552-9872.
About Ayusa
Ayusa International (http://www.ayusa.org) is a non-profit organization founded in 1981 to promote global learning and leadership through cultural exchange and leadership programs for high school students from the U.S. and around the world. In addition, Ayusa administers multiple high profile grant programs funded by the U.S. Department of State and other organizations. Ayusa is a sister company of Intrax, a family of organizations that provide a lifetime of high-quality educational, work and volunteer programs that connect people and cultures. Intrax is headquartered in San Francisco with offices on four continents.