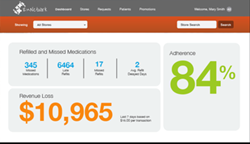 A lifeline of connectivity to ensure an optimal, pharmacy-based therapeutic experience for patients receiving prescription medicines.
Washington, DC (PRWEB) July 24, 2014
RxNetwork is showcasing their solution to the vexing problem of prescription non-adherence at Cardinal Health RBC 2014 in Washington, DC on July 23 – 26th. Utilizing familiar and user-friendly Mobile devices, RxNetwork is revolutionizing the connection between patients, pharmacies, caregivers, and payers.
Already embraced by over 100 independent pharmacies, the RxNetwork solution works 24/7 motivating patients and caregivers through timely alerts and messages to help secure improved patient compliance to medication therapies.
RxNetwork alleviates many common barriers to adherence with proven time and location-based triggers that dispense instruction, interventions, and rewards for good behavior. This ongoing and engaging interaction benefits all partners involved in a patient's care. In fact, RxNetwork brings a level of Care Coordination unmatched anywhere else.
Among the many automated engagement tools RxNetwork offers are timely Push Notifications to patients from Clinical and Social Influencers, and rewards for positive action. Clinical influence can be delivered from Pharmacies, MTM Providers, and Payer providers. Family members and Caregivers are able to contribute important social influence. Even Peers are employed through built-in games and leaderboard listings to motivate compliance. It's robust patient care that goes well beyond what has been up to now.
To learn more about how RxNetwork is helping pharmacies to overcome the problem of customer non-adherence through mobile connectivity, visit them at Cardinal Health RBC 2014 in Washington, DC at Booth 1242.
About RxNetwork
Forbes Magazine has recognized RxNetwork as a promising start-up with an innovative solution to better link pharmacies with their patients.