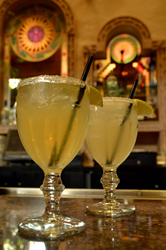 We may serve 250 to 300 margaritas each day, sometimes more.
Albuquerque, NM (PRWEB) July 23, 2014
El Pinto Restaurant & Cantina makes the best margaritas in New Mexico and they are demonstrating it with a complimentary margarita with entree purchase July 23rd from 4 p.m. until close. El Pinto's House Made Fresh margarita is always made with premium fresh squeezed lime juice squeezed daily and premium tequila like Patron, Avion, 901, or Casamigos Blanco.
"We may serve 250 to 300 margaritas each day, sometimes more," explains John Thomas co-owner of El Pinto. "And every one of our House Made Fresh margaritas are made with fresh squeezed lime juice."
"We squeeze hundreds of limes every day for margaritas and when lime prices skyrocketed this past year we were spending over $100,000 a year in limes alone," stated Jim Thomas, co-owner. "We believe in serving a quality product even if it cuts into our bottom-line," he continues.
To demonstrate El Pinto's commitment to making the best margaritas in New Mexico for all customers, everyone with proper ID that orders an entree between 4 p.m. until close on July 23rd will be given a complementary House Made Fresh margarita. The House Made Fresh margaritas will be made all day with premium Sauza 901 tequila blanco.
For a super-premium upgrade, request a House Made Fresh margarita with a Mezcal Vida float for only $2.25. Mezcal is an agave based liquor with a deep earthy and smokey flavor that adds the perfect exclamation point to an already outstanding margarita. Mezcal is served in a tradition clay copita, made in the villages around where the mezcal is distilled. Float the mezcal on top of a margarita as it will change the way you order your margaritas forever.
This special promotion is available for one day only on July 23rd from 4 p.m. until close with entree purchase and proper identification for those 21 and older. The promotion is specifically approved by the New Mexico Alcohol & Gaming Division Director.
El Pinto Restaurant and Salsa Co. continues to expand in its 52nd year with an emphasis on serving nutritious, locally raised, and organic foods. El Pinto Restaurant has grown from a few tables in one room started by John and Jim Thomas' parents, to become the most famous restaurant in New Mexico with beautiful patios, natural wood burning fireplaces, and healthy New Mexican cuisine. El Pinto Salsa has recently expanded with the addition of the convenient single serving cup which reduces product waste and increases consumer satisfaction. The restaurant and salsa manufacturing facility are co-located on property in the North Valley of Albuquerque, New Mexico.
About El Pinto Restaurant & Salsa Co:
Established 52-years ago, El Pinto is a quintessential icon for New Mexican cuisine. Conveniently located in the North Valley of Albuquerque just off I-25, the serene patios located under beautiful cottonwood trees provide an iconic experience. El Pinto is known nationally for its fire-roasted green chile and fresh flavorful salsa distributed across the nation in local grocery stores. The salsa and green chile factory is located on the same grounds as the restaurant. For an authentic taste of New Mexico, visit El Pinto for its fresh iconic food, traditional margaritas, and award winning chile. http://www.elpinto.com.