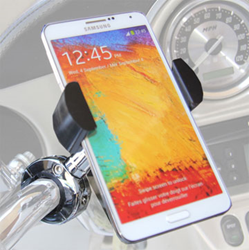 The first motorcycle cell phone and GPS holder with 'secure for life' technology and lifetime warranty.
Morristown, AZ (PRWEB) July 25, 2014
PowerSportsUS, the master distributor for the Techmount brand of motorcycle mounting systems and accessories, announces the release of their new personal device holder called the TechGripper.
"The TechGripper was born out of the necessity to having a safe and secure way to mount cell phones, GPS devices and other personal devices on motorcycles so that the rider can access their phone to listen to their music, take photos and/or videos, use their GPS and to safely take and receive calls while riding through a hands free Bluetooth device," stated Roy Reyer, the president and founder of PowerSportsUS.
Since 1995, Techmount and PowerSportsUS has built a reputation in the powersport industry for developing motorcycle-mounting systems for personal devices such as smartphones, GPS devices, radar detectors and video/digital cameras.
"One of the biggest problems with the other motorcycle cellphone holders on market today is that they are made of plastic and are not very secure in keeping a cellphone secure while riding," says Roy Reyer. "Because of this we designed our TechGripper with the motorcycle rider in mind, using DuPont Delrin Acetel resin thermoplastic and stainless steel springs, which provide an 18 pound per inch grip. The result is a personal device holder that is UV Proof, heat resistant and waterproof, which enables us to offer the TechGripper as the first personal device holder with secure for life technology with a full lifetime warranty."
The TechGripper's grip range is from 2" to 4.2", which enables the rider to mount cell phone as the Samsung Note and even the new iPhone 6, even while it's in a case.