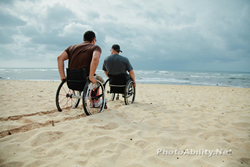 Aaron's images are edgy, creative, and refreshing, while pushing the barriers of perception. He makes disability sexy and strong.
(PRWEB) July 24, 2014
Aaron's images are edgy, creative, and refreshing, while pushing the barriers of perception. He makes disability sexy and strong with images ranging from extreme adventure to a female model dominating in leather and whips from an antique wheelchair. Visit Aaron's Portfolio.
Independence and self-determination are characterized in Tiffany Mather's emotive and symbolic images which range from black and white studies on loss and loneliness to vibrant color images of various adaptive sports featuring archery, skiing, and wheelchair basketball. Visit Tiffany's Portfolio.
Tiffany Mather was recently named "Hero of the Week" by a local paper in Santa Clara, CA for her work as a volunteer and board member on behalf of the Triumph Foundation for the last six years.
Aaron Paul Rogers of LA, California also met his first model, Domonic Corradin, through the Triumph foundation. He coordinated with PhotoAbility owner Deborah Davis, a wheelchair user herself in Florida, to shoot Alanna Flax Clark in his studio. Alanna brought her friend Melissa, and with props brought in by Aaron, the ladies brought to life the vision he had long planned for…a modern and antique twist on perception of disability.
PhotoAbility often matches photographers with specific models in their area in an effort to more quickly create "Disability Inclusive Stock Photo Images" for their customers to choose from in their Library. Custom shoots can also be arranged by companies who wish to hire a photographer or model whose work they have seen through the website.
Photographers who are represented in the library receive top competitive royalties; have the option to create an individual portfolio hosted on the site, receive promotions of their businesses with links to their sites, and have the opportunity to become a featured portfolio monthly.
PhotoAbility feels that powerful messages imparted through imagery will bring about important social change with increased access and rights. Its Stock Image Library represents over one billion persons with disabilities worldwide, whose spending power has a substantial impact on travel and lifestyle economies all over the world. This demographic is seeking to be acknowledged in advertising and editorial images.
The goal of the Image Library is to give customers the wide selection of positive imagery reflecting the real lives of people with disabilities, encouraging further inclusion. The imagery contained within the pages have the effect of helping to eliminate the fear and negative stereotyping that so often permeates all levels of society.
PhotoAbility was established in March 2012 by Deborah Davis and Bill Forrester with the goal of providing high quality, unique, non-medically oriented imagery of persons with disabilities for purchase by the advertising, marketing, and media sectors. The Commercial Stock Image Library specializes in positive and "Inclusive" images of people with a disability in leisure, lifestyle, and travel settings.
The 2500+ inclusive images depicted in the PhotoAbility gallery are designed to impact attitudinal bias, change perception, and provide motivation to eliminate social, structural, and professional barriers. A wave of change reflected in popular media and advertising can make an impact on laws and attitudes around the globe, and on how many people with differing abilities view themselves.
For more information and to view PhotoAbility.net's positive, inclusive Stock Images, please visit http://www.PhotoAbility.net