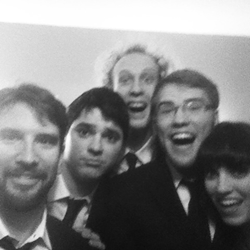 "It's like seeing twelve concerts in seventy minutes, and they are all just crazy ridiculous." --- Brett Duggan
Hollywood, CA (PRWEB) July 24, 2014
USOIR was created by Brett Duggan with the help of Second City's Artistic Director and Emmy Nominated artist, Josh Funk and brought to life every night by the multitalented and award winning cast: Jason McNichols, Casey Schuckett, Kevin Stafford, Todd Risenmay, Chris Roque and Brett Duggan. The scripted but highly improvised rock musical comedy chronicles a little known history of indie rock music over a sixty year span by reenacting performances by infamous bands, such as the Exuberation and Extra-Ordinaries and The Flock of Rocks. (In reality, these are all made-up bands and original songs.) The cast portrays eleven different bands and as many different styles of music.
The development of The Untold Story of Indie Rock began two years ago with the formation of Brett Duggan and The Not Normal Band, LLC, a group of hybrid performers who are all improvisers, actors, musicians, writers, comedians and filmmakers. USOIR started playing Saturday nights at Second City in January and was first extended in April due to packed houses and standing ovations. Director Brett Duggan was guided through the process by Josh Funk (Emmy Nominated song-smith for Comedy Central's "Key and Peele") to make sure the new show was up the standards of the fifty-two year old comedy institution, Second City.
On August 16th the show is planning for a very special event, "A Celebration of Continuation." Prizes will be given out and all audience members will get more opportunities to play along with the cast. In addition, everyone who comes to the show will get a free download of one of the songs from the forthcoming studio album, Best of The Untold Story of Indie Rock (a debut).
USOIR is much loved by the fans, many of whom have seen show a dozen times. "The songs, they get stuck in my head, and I have to come back and hear them live," said one fan, Jennifer, after her fourth time. "Something new happens every time I see it, it's always different," says John, another fan. The Yelp reviews have been overwhelming. One yelper wrote, "I just went with my girlfriend to see The Untold Story of Indie Rock and we were blown away. This was better than The Beatles Rain on Broadway and many other Broadway musicals I have seen." Another wrote, "I saw the Untold Story of Indie Rock a couple of weeks ago and it was fantastic! I'd been in a bad mood all day and I still laughed the entire show." See The Untold Story of Indie Rock.
Rumor has it creators of USOIR have been in talks with producers about taking the show to Las Vegas and New York. But right now, USOIR is playing in a sixty-four seat theatre for only $10 a ticket. Tickets are still available; go to USOIRmusical.com and follow the link, or at The Second City Box Office.