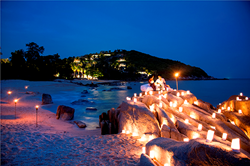 Bangkok, Thailand (PRWEB UK) 24 July 2014
Married by Moonlight: AHMS the Collection
launches Full Moon Weddings Across All the Group's Resorts in Thailand
Couples in search of nuptials with a difference need look no further: AHMS The Collection has announced it will introduce Full Moon Weddings at each of its four Thailand resorts and has begun accepting reservations.
The concept was pioneered by Aleenta Hua Hin-Pranburi last year, when couples were invited to tie the knot at midnight by moonlight – a pioneering initiative aimed at couples with a taste for the dark and mysterious side of life.
AHMS founder and managing director Anchalika Kijkanakorn, said the Aleenta Hua Hin initiative had been popular with adventurous couples. She was now looking forward to each of the collection's four Thailand resorts in Greater Phuket, Koh Samui and Pranburi, near Hua Hin, putting their own unique stamp on the concept.
Ms Kijkanakorn, who is also Chairman of Small Luxury Hotels of the World (SLH), said the experience was in keeping with a trend towards ever more unique and buzzworthy ways of getting married.
"Brides and grooms are always looking for something unique, a way to stamp their wedding as their own," she said. "AHMS Full Moon Weddings promise the ultimate bragging rights and a Big Day – or rather, Big Night – that the wedding party and all of your guests will never forget.
"It will appeal to night owls, romantics and people who are unafraid to defy convention and break the mould. It's the non-cookie-cutter take on the tropical beach wedding.
"Let's face it," she added, "some of us just aren't morning people."
*Marriage certificate and legal arrangements are not included and must be arranged directly by the client at the Embassy in Bangkok and any district office (where applicable).
Full Moon Weddings at Aleenta Hua Hin-Pranburi
The original package remains available at Aleenta Hua Hin-Pranburi, with a chauffered car ride or optional Harley-Davidson motorcycle transfer to the moonlit beaches of Pranburi, and to the front door of the resort at Paknampran Bay.
Package includes:

2 nights luxurious accommodation at Aleenta Hua Hin-Pranburi for 20 adults sharing 10 Beach Front Residences
Romantic ceremony under the stars, with Thai lanterns launched overhead as candles for guests
Pampered touches from the spa
Giant hand-scorched monograms in the sand
Hand-made loy kratongs created from Aleenta's organic farm to launch at sea
Sunrise wedding breakfast or late-late suppper with liqueur coffees and Bucks Fizz
Fare from The Cellar restaurant, including Rose Apple Waldorf, Thai Scotch Egg, Pranburi Prawn Cocktail, Potted Shrimp & Rye, Fish & Hand Cut Chips, and Butter de Pranburi Duck Fat Chips
Private weddings for two up to large events with 120 people, tailor-made weddings, with a track record of over a decade of making tropical beach wedding dreams come true, with dedicated Wedding Planner and Events Manager. From THB 195,000/ USD 6,500 for a wedding of up to 20 persons
Full Moon Weddings at Aleenta Phuket-Phang Nga
It's a wonderful night for a moondance now that the blue moon sees you're no longer alone. Aleenta Phuket redefines the essence of a quirkily blissfully luxurious wedding and honeymoon with its take on Full Moon Weddings held on the shimmering, pristine sands of Natai Beach, the 'Hamptons' of Greater Phuket.
Beyond the basic package, the sky is the limit too with Aleenta's range of beachfront rock star villas from The Private Collection, the most exclusive selection of luxury beachfront villas in Thailand.
These include three bedroom, two swimming pool Grand Villa Natai, the jaw-dropping Grand Villa Satis, with four bedrooms, huge pool, entertainer kitchen, and vast terrace, Chaba Villa, a two-bedroom villa in the resort's Frangipani wing, and the three bedroom Aleenta Private Villa.
Package includes:
Standard flower decoration of the ceremony location (flowers for altar, corsages for groom, hand bouquet for bride)
Bridal wooden walkway, flowers on aisle (flower selection subject to seasonal market availabiliity)
A bottle of Aleenta sparkling wine
Sound system for ceremony
Photographer during ceremony (4 hours)
Aleenta's signature 'Magical Moment' in room on Wedding Day
Pre-Wedding Spa Treatment for couple at exclusive new Ayurah Wellness Centre
Spa manicure & pedicure for couple
Hairdo & Makeup for couple including makeup trial
Master of ceremony (celebrant)
Flying lantern for couple
Turtle release for couple
From THB 120,000 NET.
Full Moon Weddings at AKARYN Samui
On ultra-private and beautiful Hanuman Bay, Full Moon nights are a sight to behold. Reflections shimmer in the half moon cove as the bright orb begins its rise. This is romance for the brave hearts and seekers of something new.
AKARYN spa and resort can provide the perfect complete setting for beach wedding under the full moon. This once per month chance to marry under the natural spotlight of the moon includes:
Your own personal wedding coordinator
Wedding celebrant (non-secular) and pre-consultation meeting
Private wedding ceremony by moonlight with celebrant
Floral arrangement
Bouquet for bride, boutonniere for groom
2-tier, 3-pound wedding cake
Special full moon honeymoon set-up in room
One bottle of AKARYN label sparkling wine or a choice of AKARYN signature cocktail for celebration toast
1 hour massage for bride and groom
AKARYN breakfast served in room for bride and groom after the wedding day
Personalized AKARYN wedding certificate in a decorative folder.
From THB 82,000 NET
Full Moon Weddings at Akyra Chura Samui
Far away from it all, vow undying love to each other against the backdrop of Chaweng beach waves on the island that launched a thousand Full Moon Parties. Create an intimate experience by the Full Moon for just close friends and family, or push the boat out and stage your own wedding and Full Moon Party for up to 100 guests.
Package includes:
1 nights' stay in our best available room
Honeymoon set up
Private dinner for two on the beach, served with a bottle of wine
30 minutes' of massage on the beach
Master of Ceremony & ceremonial set up alter
Bouquet & corsage celebration set up
Bottle of bubbles served at the wedding
Wedding cake 1 x single tier 3lb
In house wedding coordinator upon check in & on wedding day
Kom Loy (Thai latern release)
Weather contingency location
FROM THB 65,000 net
For further information and high-resolution photography, please contact:
Eugene Oelofse
Director of Brand Communications & PR
AHMS Hotels
Tel: +66(0) 2514 8112
E-mail: eugene(at)ahmshotels(dot)com
Website: http://www.aleenta.com
Notes to Editors:
AHMS specialises in the management of small luxury resorts and is the owing and management company for Aleenta Phuket-Phang Nga (http://www.aleenta.com/phuket), Aleenta Hua Hin-Pranburi (http://www.aleenta.com/huahin) and AKARYN Samui (http://www.akaryn.com) at Hanuman Bay, Koh Samui. AHMS also operates akyra Chura Samui (http://www.theakyra.com). In 2015, AHMS will add two resorts to its collection. akyra Manor Chiang Mai sees the boutique hotel developer teaming up hot design firm Manor in Singapore to create a high-end hip urban retreat with 30 rooms, featuring a restaurant and roof bar in the heart of the city. In the same year, AHMS will also open AKARYN Koh Krabay in Cambodia, featuring a partnership by world famous designer Kenzo who is the creative director on the project. It will consist of 40 private villas on a private island, with private butler service, three restaurants and Ayurah Wellness Centre covering a spacious 2,000 square metres.