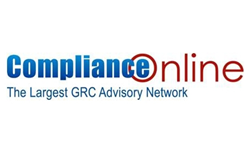 San Francisco, CA (PRWEB) July 24, 2014
ComplianceOnline, the leading governance, risk and compliance advisory network with over 500 experts in various regulatory subjects, today announced a seminar on Raw Material Requirements (Health Canada/USP/EP) in a cGMP Environment - Issues and Solutions. The two day seminar led by industry expert Barry A. Friedman will be held on September 8-9, 2014 in San Francisco, CA.
This interactive seminar will cover issues surrounding raw material requirements in a cGMP environment to ensure compliance with Health Canada, FDA, USP and EP regulations.
For more information or to register for the seminar, please click here.
Speaker Barry A. Friedman is a consultant in the biotechnology, regulatory compliance and aseptic processing arena. Dr. Friedman possesses over 30 years of industrial managerial experience in various aspects of biopharmaceuticals and medical devices to include regulatory compliance, expert witness testimony, GLP/GMP, quality control, auditing, sterility assurance, microbiological/analytical validations and fermentation technology.
During the two day seminar, Dr. Friedman will detail raw material requirements in a cGMP environment. He will elaborate regulatory requirements for Phase 1 through commercial manufacturing. Attendees will understand how various types of raw materials may impact the user. Dr. Friedman will also host discussions on topics such as compendial vs. non-compendial testing, use of individual samples vs. composite samples and much more. Case studies will be discussed to illustrate regulatory raw material issues.
This seminar offers a fresh perspective on raw material requirements in a cGMP environment for quality, regulatory and compliance professionals, manufacturing engineers, quality engineers and auditors. Personnel in research and development, microbiology and documentation will also benefit from this training.
Date: Monday, September 8 (8.30 AM- 4.30 PM) and Tuesday, September 9, 2014 (8.30 AM- 4.30 PM)
Location: San Francisco, CA
Registration Cost: $1,699.00 per registration
Get 10% Discount for Registration (Use Promo Code - 232082) - please click here.
Register by phone: Please call our customer service specialists at +1-650-620-3937 or email to customercare(at)complianceonline(dot)com
For more information on ComplianceOnline or to browse through our trainings, please visit our website.
About ComplianceOnline
ComplianceOnline is a leading provider of regulatory compliance trainings for companies and professionals in regulated industries. ComplianceOnline has successfully trained over 35,000 professionals from 9,000 companies to comply with the requirements of regulatory agencies. ComplianceOnline is headquartered in Palo Alto, California and can be reached at http://www.complianceonline.com. ComplianceOnline is a MetricStream portal. MetricStream (http://www.metricstream.com) is a market leader in Enterprise-wide Governance, Risk, Compliance (GRC) and Quality Management Solutions for global corporations.
For more information please contact:
A Reuben Bernard
Manager of Program Marketing
ComplianceOnline
2600 E Bayshore Rd
Palo Alto CA USA 94303
650-620-3937 phone
650-963-2530 fax
reuben(at)complianceonline(dot)com
http://www.complianceonline.com