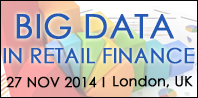 London, UK (PRWEB UK) 23 July 2014
SMi is proud to have Filip Vitek, Head of Customer Value Management from Sberbank Slovakia, speaking at its 2nd Annual Big Data in Retail Financial Services conference, taking place in London on the 27th of November 2014.
He will be giving insight into how to use big data analytics to read client moves and earn more revenue. His address will provide an international perspective on the proper use of big data in customer acquisition and cross-selling processes and furthermore he will also discuss which data 'underdogs' turn out to be useful in reality.
Packed full of timely presentations and real life case studies, this great networking opportunity will show you where and how to use Big Data to gain a competitive advantage.
This event will help you make better sense of the data you have and will teach you how to make the right, cost-effective decisions.
Key Topics Include:

New for 2014 - Profiling your customer - find out how to really get to know your clients
Understand privacy issues and how to implement the best practice to mitigate the risks
Learn how to use your data more effectively in key decision making processes
Analyse the newest tools for implementing robust big data processes and technologies
Speakers Include:
Alan Grogan, Chief Analytics Officer, Royal Bank of Scotland
Bob Skerett, UK Telematics Director, Royal & Sun Alliance
Orlando Machado, Head of Customer Insight and Engagement, MoneySuperMarket
Sergio Vieira, Director of Customer Insights & Interaction, Lloyds Bank Plc
Alastair Barter, Senior Policy Officer, Information Commisioner's Office
Oliver Werneyer, VP, Data Distribution Leader, Swiss Re
For more information please visit http://www.smi-online.co.uk/2014bigdata19.asp
If you would like to attend this conference as a delegate please contact Peter Obatomi on +44 (0) 207 827 6058 or e-mail pobatomi(at)smi-online(dot)co(dot)uk
If you are interested in sponsoring this event contact Alia Malick on +44 (0) 207 827 6168 or email amalick(at)smi-online(dot)co(dot)uk