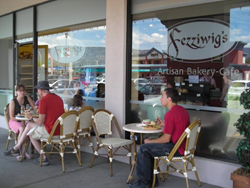 The Aluminum Bamboo Patio Chair is one of the most popular outdoor chairs.
Kelowna, BC (PRWEB) July 23, 2014
Canada's leading commercial furniture distributor, Restaurant Furniture Canada recently teamed up with Fezziwig's Bakery & Café in Kelowna, British Columbia to provide them with new patio seating.
Fezziwig's Bakery-Cafe is located in the Mission area of Kelowna, B.C. They opened March 2006 with a vision to serve nourishing home-style meals in relaxed surroundings. The café is named after Mr. Fezziwig is the well-loved character in Charles Dickens 'A Christmas Carol'. Their ingredients are locally sourced and wherever possible, organic. They also endeavor to use only biodegradable packaging. They have three locations in Kedlowna.
The café serves Cherry Hill Coffee and they are Kelowna based, family run company. Although Fezziwig's bakery is famous for their cakes and pastries they are also are also a full service café. Their beans are organic and fair-trade sourced, and they roast their beans as they order them, providing customers with great tasting and fresh coffee. They also serve a variety of teas. Fezziwig's offers a breakfast and lunch menu. The breakfast options include hot oatmeal, French toast, poached eggs and toast, wraps and sausage and eggs. Their lunch menu includes a wide range of sandwiches and includes entrees such as poached chicken breast, poached wild salmon, shepherd's pie and more. There also make casseroles and serve soup and salad. They also provide catering.
The owner contacted Restaurant Furniture Canada to buy new patio furniture. He chose Restaurant Furniture Canada because of their reputation as a valued manufacturer of high quality commercial furniture and competitive prices.
For new seating the owner decided to go with Restaurant Furniture Canada's Aluminum Bamboo Patio Chair. The commercial grade chair is made of faux bamboo and is great for patio dining or for use indoors. The chair is made using a double tube Aluminum frame, this chair is durable and is a great choice for any restaurant, bar or any dining location. The Aluminum Bamboo Patio Chair is currently on sale for $69 at Restaurant Furniture Canada.
"The Aluminum Bamboo Patio Chair is one of the most popular outdoor chairs," explained Chris, salesperson for Restaurant Furniture Canada. "They are very attractive comfortable and durable. They are ideal for outdoor seating and also look great indoors, making it a very versatile chair."
To browse Restaurant Furniture Canada's full selection of chairs, bar stools, table tops, table bases, booths and patio furniture visit http://www.restaurant-furniture.ca/ or talk to a customer service representative at (888) 998-4222 for answers to all your questions on restaurant furniture.
Fezziwig's Artisan Bakery & Cafe is located at 15-605 K.L.O. Rd. in Kelowna, BC. They can be contacted at: (250) 861-8659.