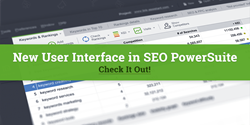 (PRWEB) July 23, 2014
The much anticipated update to the SEO toolkit's UI went live today, with the developer company, Link-Assistant.Com, urging users to try out the new state-of-the-art software design created in accordance with the industry's latest trends.
"There are quite a few ways in which we've improved SEO PowerSuite's software UI," says Erin Madison, user experience manager at Link-Assistant.Com. "We've listened to our users who asked for a darker, more eyesight-friendly color scheme as well as to those who requested that we make certain SEO PowerSuite features easier to find."
"So, we rearranged the SEO toolset's navigation to replace the old top-heavy layout with the kind of surf-around interface that brings out many levers in SEO PowerSuite, and puts them right at the user's fingertips," continues Erin.
Other improvements to SEO PowerSuite's UI
Besides the enhanced color scheme and the new menu button distribution, another important change is the ability to migrate custom workspaces between projects in SEO PowerSuite. Previously, one had to manually duplicate custom workspace settings for each new project, while now it has become possible to simply copy a non-default workspace to any other project(s) (see image).
History of SEO PowerSuite redesigns
Last time SEO PowerSuite tools were redesigned on such a grand scale was in February of 2012 - more than 2 years ago. Back then, 5 different color schemed were made available for SEO PowerSuite users.
With the current redesign, the present color scheme incorporated all the best practices of its previous design. The light- and dark-gray hues are much easier on the eyes, plus 5 major types of text and icon color breathe life and vigor into the new interface.
Detailed description of what has changed in the new SEO PowerSuite interface is available at http://www.link-assistant.com/news/new-seo-powersuite-interface.html.
About SEO PowerSuite
SEO PowerSuite is a renowned four-app toolset for all-embracing, technology-driven SEO.
The 4 software apps within the SEO toolkit are:

Rank Tracker (it helps one check search engine rankings for keywords and perform advanced-level keyword research)
WebSite Auditor (an on-page SEO tool that gives one a hand with website structure fine-tuning and content optimization)
SEO SpyGlass (an award-winning backlink checker that allows one to thoroughly scrutinize backlinks pointing to any web site)
LinkAssistant (an effective link acquisition and link campaign management tool to lets one keep track of links build and verify their status when necessary).
About Link-Assistant.Com
Link-Assistant.Com is a software developer with almost a decade's experience providing award-winning SEO tools for bloggers, online entrepreneurs and marketing agencies. Launched in 2005, the Link-Assistant.Com business model was built around progress and innovation. Its marketing tools are used by over 500,000 users worldwide who reply on Link-Assistant.Com marketing toolkit - SEO PowerSuite - for their online success.
Keep abreast of the SEO industry – follow Link-Assistant.Com on Facebook fb.me/LinkAssistant, Twitter @LinkAssistant or Google Plus gplus.to/LinkAssistant and stay updated on the latest SEO news.