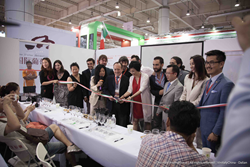 We are convinced Italian wine will be a key protagonist in the Chinese wine market
Dalian, China (PRWEB) July 23, 2014
It all began exactly one year ago when Stevie Kim, Managing Director of Vinitaly International was invited to the International Forum on Wine Tourism organized in Dalian by Gong Lin, Vice president of the huge Chinese oil-to-real estate tycoon, Haichang Group. After eight months of informal meetings and the visit of a Dalian delegation to this year's edition of Opera Wine and Vinitaly, it is thanks to the agreement between these two women that Italian wine was finally able to take centre stage during the Dalian International Wine Festival in Dalian, the main getaway for Bordeaux labels entering Northeast China.
"For the third edition of our fair, this year we have a special guest: Vinitaly, the real ambassador of Italian wine. A less important group maybe compared to French in China but we are convinced Italian wine will be a key protagonist in the Chinese wine market," said Gong Lin, who is also the organizer of the yearly Festival together with the French Chamber of Commerce.
During an event that counted 34 pavilions, 15 different wine producing countries, 10,000 wines and more than 50,000 visitors, the 120 sqm Vinitaly Area attracted the attention of no less than the Major of Dalian who made this his only institutional visit after the official Opening Ceremony, toasting the newcomers no longer with Champagne but with a bottle of Franciacorta.
Special attention was also given to Vinitaly initiatives by the organizers of the event and ever-present media partners Vinehoo, Wine in China and Wine Luxe who dedicated articles and posts on WeChat and Weibo to the Ambassador of Italian Wines.
The key words behind Vinitaly International's gradual and successful penetration of the Chinese wine market have been, since the very begging, "collaboration" with China's top Italian wine importers, and "education", through the organization of an ever growing number of Masterclasses and Executive Wine Seminars both aimed at divulging and broadcasting the excellence and great diversity of Italian wine amongst Chinese professionals and wine lovers.
Both top wine importers VM Fine Wines and Kelit, have followed Vinitaly International during all three stops in China Mainland during the past five months. "This is the third time that we cooperate and participate with Vinitaly International for the Masterclasses. Chengdu, Shanghai and now here in Dalian. All of them were a great success for us and we are very happy to support wine education and wine promotion. I believe it is a very important step for all wineries in Italy to go and enter this important market. I hope Vinitaly International will continue to organize these seminars and masterclasses because they are very important. I will always support them," explained Matteo Mazzoni, Marketing Director of VM Fine Wines confirming the great importance of creating a united front in order to achieve the final objective of making Italian wine the true protagonist in the Chinese market.
It was the first time, instead, for ChuXiao, Shanghai importer and number one in China for online wine trade. In the words of its founder, Jiang Zhi Ping: "It went much better than expected. We are convinced that our collaboration with Vinitaly will strengthen in time, starting from the next edition of Vinitaly China Chengdu in 2015."
During this edition of Vinitaly China, all 12 educational sessions had a full house exceeding not only expectations but also the numbers of the previous edition in Shanghai: more than 15.000 visitors passed by the Vinitaly Area during the three days of event also attracted by the popular afternoon Italian style aperitivo which livened up the Vinitaly Lounge at 4 pm each day.
Brand Ambassadors of five Italian Wineries, Ferrari, Mezzacorona, Zenato, Gruppo Italiano Vini and Marchesi Frescobaldi were also present at the event and positively impressed by the number of the visitors. "We are very happy to partner with Vinitaly International and I'm sure next year there will be new opportunities on the radar to work together and to advance the best of made in Italy. My impression of the show in Dalian here today: very professional, very satisfied of the turnout and also the response of the operators" said Dean Lapthorne, Export Manager of Cantine Ferrari.
The last word goes to Pierluigi Pollio Frescobaldi, Market Manager at Marchesi di Frescobaldi who flew in directly from Beijing to be at the side of Vinitaly: "I am very pleased to be here today at Vinitaly Dalian and I have to thank all the team and Stevie and Mantovani for the great support they are giving to Italian wine. As you know Italian wine accounts for 7% of the Chinese market so there is a long way to go and the best way to achieve a result in this Country is to be all together."
About:
Veronafiere is the leading organizer of trade shows in Italy including Vinitaly (http://www.vinitaly.com), the largest wine event in the world. The 48th edition of Vinitaly counted some 155,000 visitors (+6%) in four days of event, of which 56.000 were international attendees representing 36% of the total. On 100.000 square meters, 4.000 exhibitors welcomed trade professionals, media and producers alike. The next instalment of the fair will take place on 22 – 25 March 2015. The premier event to Vinitaly, OperaWine (http://www.vinitalyinternational.com) "Finest Italian Wines: 100 Great Producers," will unite international wine professionals on March 21st 2015 in the heart of Verona, offering them the unique opportunity to discover and taste the 100 best Italian wines, as selected by Wine Spectator. In 1998 Veronafiere also created Vinitaly International to develop a global platform for the promotion of Italian wine producers in foreign markets such as Russia, China, USA and Hong Kong.