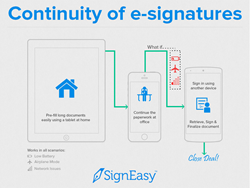 We wanted to help them close deals or finish paperwork even with the uncertainty of smartphone battery life.- Sunil Patro, Founder & CEO, SignEasy
San Francisco, CA (PRWEB) July 23, 2014
Electronic signature company SignEasy introduces path breaking feature called 'Continuity', allowing cross-device portability to complete paperwork in today's increasingly mobile lifestyle of knowledge-workers. This feature allows customers to start their digital paperwork on a device and complete it on any other iOS or Android device seamlessly at a later point of time.
SignEasy's team ideated and created this feature after analyzing the customer feedback and insights. Sunil Patro, Founder & CEO of SignEasy says, "In our journey of 4 years, we have come to know our users and their needs. We understand the fact that SignEasy users are no more tied down to one device and want the same experience across devices. More importantly, we wanted to help them close deals or finish paperwork even with the uncertainty of smartphone battery life."
The newly introduced 'Continuity' feature offers the following capabilities to users:
1) Secure backup of documents on SignEasy servers for better accessibility
With this update, SignEasy's users will be able to backup and secure their documents on our servers. This will allow data recovery in case of phone theft. Moreover, battery life of smartphones can be unreliable, but with this feature, users will be able to continue paperwork on another smartphone and not risk losing out on business deals due to such an eventuality. SignEasy offers users access to their documents at all times across devices.
2) Pre-filled documents saved as Drafts
SignEasy users such as realtors, lawyers, service professionals, consultants, sales staff and insurance agents, visit many clients within a day, and heavily rely on this feature. In these verticals, the ability to pre-fill a document means expedition of paperwork. Arriving to a client meeting with all the paperwork ready, only awaiting for the final revision and signature of the client, not only saves time but also projects a professional image of your company while delighting your customers.
3) Cross-platform compatibility
A large number of  smartphone and tablet users are using devices on more than one platform. Having understood the fact that cross-platform compatibility is of high priority for our users, we created a way for them to switch seamlessly between devices/platforms while continuing their paperwork from where they left off.
4) Work offline and continue when online
When working offline, SignEasy offers the ability to sign a document. The paperwork can be completed when the device is back online, allowing it to sync with our servers to finalize the document.
5) Bring Your Own Device (BYOD) to your work
With BYOD policies, SignEasy users can utilize the continuity feature by finalizing their paperwork from their personal devices and/or employer provided and administered devices at your workplace.
The new SignEasy update is available for download on Apple App Store and Google Play Store with the Continuity feature applicable to Premium and Business plans of SignEasy.
About SignEasy
Launched in 2010, SignEasy is the simplest, most convenient and secure app for businesses and professionals to sign and fill documents from smartphones and tablets. Consumers and businesses in realty, law, service, consultancy, sales and insurance use SignEasy's eSignature app to expedite business turnaround times, close more deals and reduce costs by streamlining their paperwork in business transactions.
SignEasy executes 60% faster than other leading eSignature apps and it cuts document turnaround time by as much as 95% compared to traditional methods of printing, scanning, faxing and shipping paper paperwork. SignEasy seamlessly works with Dropbox, Box, Google Drive, Evernote and OneDrive. It has been featured on Apple's App Store homepage in April 2014, selected as one of Top 10 essential business apps and consistently ranks in top 10 grossing business apps on AppStore.
For further queries:
Aditya Kshirsagar
Email: aditya(at)getsigneasy(dot)com   
Skype: Aditya.Kshirsagar