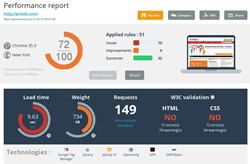 A 1-second delay in page load can represent a loss of 7% in conversion rate.
Rennes, France (PRWEB) July 24, 2014
A Full Analysis in One Click
DareBoost is an online tool which analyzes webpage quality and performance. Just one click is needed to launch a full diagnostic.
DareBoost provides complete and customized reports, highlighting errors, possible improvements, and giving precise advice which guide the user step-by-step to solve the problems. Reports also include an overall page quality score, and scores by categories, including Performance, SEO, Compatibility, etc.
Tailor-Made Tips
DareBoost provides more than basic website analysis; DareBoost detects technologies used on websites, such as Apache, WordPress, Joomla, jQuery, and more than 500 others, and specific issues linked to these technologies, providing unique customized advice. In doing so, DareBoost eases maintenance of websites, especially regarding load time and user-experience, by assisting developers and webmarketing professionals.
Web Performance and Quality Monitoring
Websites are continuously evolving, and so are the technologies used to create and maintain them. For this reason, DareBoost carries out the monitoring of websites. In addition to standalone analysis tools, DareBoost offers automated analysis, at regular intervals. The service automatically analyzes a given webpage -and produces a full report- at a given frequency. Users are alerted if a slowdown or a quality issue occurs, according to configurable thresholds.
Users may access full reports of monitored pages, at any time. By using the reports provided by DareBoost, users are able to understand and fix web performance issues. Monitoring feature also provides an overview of the page quality evolution over time.
A Freemium Service for All Business Sizes
DareBoost offers free website analysis. Free subscription includes unlimited analysis for homepages, and one page monitoring, at a daily frequency, and at a user-specified hour.
Professional offers are available -from 18€ / month (excluding VAT) to 348€ / month for the most comprehensive needs-, to audit any webpage with various advanced settings. Standard professional subscriptions allow up to 100 monitored pages with hour-by-hour monitoring.
Getting new visitors and converting them into customers are daily challenges. Wasting webmarketing investments with a slow website is not an option anymore when using DareBoost, which provides a rich website optimization toolsuite.
Analyze any website in a few seconds and for free with http://www.dareboost.com.
[1] (source: Aberdeen Group)