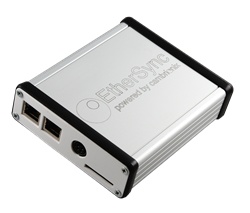 Cambridge, UK (PRWEB) July 25, 2014
Cambrionix are proud to announce the development of a new product range, EtherSync™.
EtherSync products are network attachable USB charge and sync devices that allow USB products to connect to an Ethernet network. EtherSync is available with multiple USB connections which can be used for peripheral devices, tablets and smartphones.
Instead of using an expensive and vulnerable lap- top to manage your devices use EtherSync anywhere Ethernet is available.
It can be used in areas where having a Mac or PC running presents difficulties e.g. in public areas such as restaurants or retail environments.
EtherSync products can also be used to allow existing tablet management systems to be connected to an Ethernet network.
EtherSync will enable the remote management of tablets using existing, familiar tools such as iTunes and Configurator.
As with all Cambrionix products EtherSync comes with fully supported software and is upgradeable and 'future proof.'
About Cambrionix
Cambrionix designs and supplies market leading products for use in schools, hospitals, homes and a wide range of businesses that need to manage and control updates, synchronise data and charge USB-connected devices reliably and quickly. The unique patented Cambrionix technology is incorporated by system integrators into a variety of form factors including carts and charging pods which are sold around the world. Cambrionix was established in June 2007 and is based in Cambridge, UK.