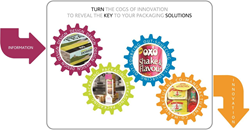 The Packaging Innovations Show in Islington has always been very good for the team at Alexir and we are looking forward to sharing yet more innovation with our visitors to the stand.
(PRWEB UK) 25 July 2014
The Alexir Partnership will be revealing some truly ground-breaking innovation on their stand B7a at the Packaging Innovations Show in Islington this September. Last year the show, situated in the Business Design Centre, was incredibly successful for Alexir and their 'Innovation Centre' theme proved very popular with a high footfall to the stand. The message remains the same but the manner in which it has been dressed takes it one step further; the Alexir Partnership is the only company in the carton board packaging industry that can take an idea all the way from design through to delivery, offering a unique turnkey solution for brand owners in FMCG.
The four arms of the business of the Alexir Partnership are portrayed visually as working cogs to illustrate the process through which a brand owner's idea becomes a reality. It is these fine-tuned cog-wheels that create the innovative packaging solutions on display; join Alexir on stand B7a and take a peek through one of the cogs to see what all the fuss is about.
About the Alexir Partnership
With proven reliability, excellent quality and innovative packaging solutions, the Alexir Partnership is the only UK owned company that offers a complete design to delivery service.
For more information contact:
Claire Summersby Marketing Manager& Head of Innovation, The Alexir Partnership
E: innovation(at)alexir(dot)co(dot)uk
W: http://www.alexir.co.uk
T: 01732 866681