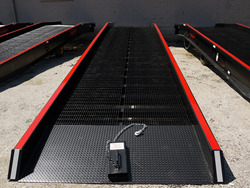 Many businesses have unique requirements or constraints created by their loading dock that make standard equipment hard to use or dangerous. Copperloy provides a safe, affordable option to customize their yard ramps or loading dock equipment.
Twinsburg, Ohio (PRWEB) July 24, 2014
Copperloy offers customers over 50 years of experience in manufacturing and selling loading dock equipment. With an in-house engineering team and state-of-the-art facility, they also provide customers with the option to design custom material handling equipment. Whether a customer is trying to meet a unique specification or is dealing with a specific application, Copperloy has the skill-set and tools to get the job done.
Recently, TPC Wire & Cable Corp asked Copperloy for help with a custom dock-to-ground ramp. The company, located in Macedonia, Ohio, was looking for a ramp to meet a few different specifications.
The dock-to-ground ramp needed to allow trailers with low clearance to drive into their building. They were also looking for a ramp that was long enough for large trailers to get into their building, without hitting the ceiling.
Copperloy's engineering team decided that the best answer to these unique specifications was to design a special two-piece ramp. This two-piece option answered the company's unique specifications, while also making shipping and unloading a painless task. When joined together, this ramp is 50 feet long, so Copperloy had to get creative as far as manufacturing and transporting the yard ramp to TPC Wire & Cable Corp. Since this ramp was designed in two pieces, the first ramp is 30 feet long, by 10 feet wide. It gives the trailers space to navigate, while also providing a 30,000-pound capacity. The custom steel dock-to-ground ramp, has serrated grating, for better traction and durability. The 20-foot extension to this ramp locks into place for easy installation. This saves the user the need to manually bolt the ramps together, while offering peace of mind in Copperloy's safety procedures and factory certification.
Fully constructed, this steel dock to ground ramp allows for 50,000-pound minimum yield. This custom-designed, stationary ramp was also built to last, using high-quality steel and other materials.
Copperloy has the capacity to produce custom manufactured yard ramps for any specification. When called on by MAPEI, a company based in Panama, Copperloy knew they could meet the unique requirements of a longer level off section. MAPEI needed a yard ramp with a 10-foot level-off section. Copperloy's standard level-off section is 8 feet. The requested 10-foot level-off section was requested so warehouse and dock workers could have enough clearance for fork trucks with extra-long forks to safely drive on the yard ramp without the fear of scraping the forklifts on the yard ramp.
This specialty yard ramp was a landmark project for Copperloy. It was the first time Copperloy designed and shipped a specially manufactured yard ramp to Panama. This was also the first time they designed a dock-to-ground ramp with a 10-foot level-off section.
Copperloy offers customers an array of American-made mobile yard ramps that provide a loading and unloading facility where one doesn't already exist. Their wide range of equipment includes: mobile yard ramps, dock-to-ground ramps, truck ramps, and forklift ramps.
In addition to these items, Copperloy also manufactures a range of material handling equipment, including edge of dock levelers, dock lifts, lift tables, dockboards, rail boards, dock plates, and portable platforms. As seen with TPC Wire & Cable Corp. and MAPEI Construction Chemicals, they also provide custom manufacturing and steel fabrication services to meet any business's unique needs and demands. Read more about their ability to custom manufacture loading dock equipment here: http://www.copperloy.com/custom-steel-fabrication/
Copperloy provides a variety of other options to help ease the loading and unloading process. Learn more about what Copperloy can do for your unique application or specification, by calling them directly at 800.321.4968. You can also read more about Copperloy's custom loading dock equipment on their blog, http://www.copperloy.com/blog/ .
About Copperloy
Copperloy has more than 50 years of experience manufacturing high-quality material handling equipment to meet the unique needs of businesses in a wide range of industries. They are a leader for durable and versatile edge of dock levelers, lift tables, dockboards and dock plates, platforms and ramps, dock lifts, and more. Plus, everything they produce is proudly made in the USA. With an expert in-house engineering team, Copperloy custom designs and builds equipment tailor-made to meet each client's specifications. Call 800.321.4968 for more information, or visit Copperloy.com.