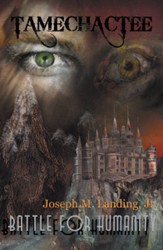 This inspirational finale to the Tamechactee series features riveting drama and an imaginative fantasy world populated by unforgettable characters.
Mount Pleasant, SC (PRWEB) July 23, 2014
The world has been devastated by a cruel and greedy being known only as The Maker, and it is the job of a small band of survivors to save all of humanity from destruction. In this sequel to his debut novel Tamechactee: Arrow Soul, Joseph Landing, Jr. spins a classic tale of good versus evil, featuring highly evolved humanoid monsters with inhuman powers and a hero who must inspire his companions to fight as never before.
"Tamechactee: Battle for Humanity," set in France's central valley, the Alps and Normandy, describes the story of the humans and their allies, the Lycans, as they struggle to survive against almost insurmountable odds. Although they have made it through nuclear bombs set off by The Maker, they must work to form alliances with other species if they hope to beat their nemesis. Their lives become even more complicated when The Maker tries to turn Marcus, the Tamechactee, against his own people. As the Tamechactee, or Arrow Soul, Marcus can control any moving object with his willpower. Losing this key player would put humanity's defense in peril, and Marcus' relationship with his friends is tested again and again thanks to The Maker.
Can the bonds of love and friendship be enough to overcome distrust and uncertainty as humanity fights its greatest foe and brings an ancient prophecy full circle? This inspirational finale to the Tamechactee series features riveting drama and an imaginative fantasy world populated by unforgettable characters. Adding to the book's allure are realistic action sequences, especially hand-to-hand combat battles that reflect the author's studies in Taekwondo and Commando Krav Maga, a form of Israeli defense training.
Author Joseph M. Landing, Jr., a recent graduate of Wando High School in Mount Pleasant, S.C., began writing when he was 13. His first novel, "Tamechactee: Arrow Soul," was published when he was just 15 years old and earned a five-star review from the online book service company Reader's Favorite. The book also placed as a finalist in the Fiction/Fantasy category in the 2012 USA Best Book Awards based out of Los Angeles. Landing, a second-degree black belt, attended the Duke Young Writers' Camp for three summers and will study screenplay writing and film directing in college. His latest writing project is a nonfiction work entitled "A Teenager's Guide to Political Perspectives."
----------
For additional information, please visit http://www.tamechactee.com.
Tamechactee: Battle for Humanity
Joseph Landing Jr.
Dog Ear Publishing
ISBN: 978-1-4575-2804-0 420 pages $17.99 US
Available at Ingram, Amazon.com, Barnes & Noble and fine bookstores everywhere.
About Dog Ear Publishing, LLC
Dog Ear Publishing offers completely customized self-publishing services for independent authors. We provide cost-effective, fast, and highly profitable services to publish and distribute independently published books. Our book publishing and distribution services reach worldwide. Dog Ear authors retain all rights and complete creative control throughout the entire self-publishing process. Self-publishing services are available globally at http://www.dogearpublishing.net and from our offices in Indianapolis.
Dog Ear Publishing – self-publishing that actually makes sense.