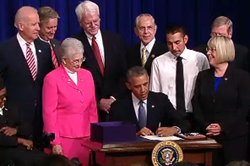 Apploi's tool uses real-time data about local employer needs to show job seekers, where the greatest job demand is geographically and by sector, as well as personalized recommendations about what education and training is needed for those positions
(PRWEB) July 24, 2014
Tuesday at the White House, in a report released with President Obama and Vice-President Biden, Apploi's tool providing jobseekers with real-time data on local employer needs, and how and where they can up-skill to reach their career goals, including exciting new features, was highlighted. At the event the President signed the Workforce Innovation and Opportunity Act and was given the report, which he committed his cabinet to supporting.
Apploi's tool uses real-time data about local employer needs to show jobseekers, the report states, "where the greatest job demand is geographically and by sector, as well as personalized recommendations about what education and training is needed for those positions, primarily focused on jobs in the retail, services, leisure, entertainment, and hospitality industries."
In addition, jobseekers will be able to learn from their job search by receiving personalized feedback based on their skills, interests, and local job needs. Finally, these search tools will illustrate the possibility for upward mobility and career trajectories, which start with entry-level positions, what training and work experience is necessary to get to the next level, and the best route for such advancement."
Apploi is working with Fortune 500 companies and CEOs, as well as heads of talent from some of the world's leading and most innovative brands, to build new developments to strengthen the workforce and provide companies with the talent they need.
"We are honored to be part of this important report, and proud of how this will help our community members, and companies," said Adam Lewis, CEO of Apploi. "A better-skilled and more informed workforce is good news for everyone."
Apploi's unique jobs and hiring ecosystem is expanding access to jobs across the country and world. Jobseekers can find and apply to jobs from personal computers, smartphones, and iPad kiosks installed in at companies, and at community centers, libraries, and malls throughout the world. With audio and video questions, and a portfolio section, jobseekers can showcase their personalities and soft skills, and employers can make better hiring decisions.
This groundbreaking initiative will be initially focused on jobs within the 35 biggest cities where Apploi currently operates, and then expanded across the country and world.
The Vice-President's full report can be found on the White House website here: http://www.whitehouse.gov/ready-to-work.