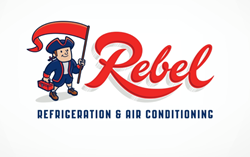 Las Vegas, NV (PRWEB) July 25, 2014
Rebel Refrigeration & Air Conditioning, a Las Vegas-based HVAC company, launched their new branding this week. They teamed up with Graphic D-Signs, Inc., a New Jersey-based advertising agency, to create the new visual identity for their business.
Rebel Refrigeration & Air Conditioning has been serving the highly competitive Las Vegas market since 1996. Owner Joe Johnson--also affectionately known as "Joe the AC Guy"--has been very hands-on with his brand development before teaming up with Graphic D-Signs, Inc. Apart from leading his team, Joe also hosts an industry-related radio show that airs Wednesdays at 10 AM on KLAV 1230. To take his business to the next level, he enlisted the industry expertise of Graphic D-Signs, Inc.
Graphic D-Signs, Inc. has won over 200 awards for their brand and website designs. Their latest work for Rebel utilizes a patriotic palette of red, white, and blue in an effort to strengthen differentiation in the highly contested Las Vegas market. The agency's work included a complete logo, website and stationery redesign, resulting in a completely new look and feel.
A growing trend amongst the small business sector, rebranding a business is proving to be a new worthwhile marketing tactic. A professionally-designed brand identity has been a noticeable asset for businesses and start-ups who prevail despite the 80 percent national fail rate.
With major companies shifting their budgets to digital advertising, the need for a powerful, unified brand across both web and print advertising has become much more vital.
This site launch marks the second full custom website launch completed for the month of July by the team at Graphic D-Signs, Inc.
Graphic D-Signs, Inc. is a full service advertising agency that specializes in logo and website design, development and strategy for both print and digital tactics. CEO, creative director & author Dan Antonelli and his award-winning team have created over 1000 unique logos during the agency's 18 years of operation.